My Better Half turned 40 so, of course, we had to celebrate this milestone birthday.
Bill had two very specific requests for this get-together.
He wanted a pig roast.
He wanted to roast the pig himself.
When he inherited a good friend's smoker a few years ago, this hobby of his quickly took off. He has mastered just about every cut of meat on his "Bobby" smoker. This time though, he really wanted to challenge himself by preparing and smoking a full pig. And that's exactly what he did.
I'll spare you the photos of the butchering, but renting a smoker and buying a pig from Secchiaroli Farm made this all possible. 
The pig was going to be the star dish, no doubt, but I couldn't wait to plan the rest of the dinner menu.
But first, the decor!
To keep this party feeling masculine, I shopped my house for some rustic pieces. I used wood block trays and platters. I also added wood boxes and marble cake plates for elevating food and adding interest to the table.
I added gold tones to the space using lanterns and gold rimmed dishes.
And because I have a pretty preppy guy, I topped my 10 foot farmhouse table (that Bill made for me a few years ago!) with some blue and white seersucker fabric. Paired with a little burlap, the wood pieces and the gold tones, the table decor was the perfect touch for my guy's get-together.
In a last minute effort to make the space welcoming in the rain since Mother Nature was uncooperative, we rented a tent and some rustic wine barrels to serve as cocktail tables. And to warm the space even more, I rolled out an old Oriental rug that was stored in my basement. It made the backyard cozy for this cool rainy night.
Now the food!
The easiest way to pull the food menu together was to make my husband's favorite bites. I decided to do a heavy appetizer table of Bill's biggest cravings.
First up, I made some Loaded Party Hummus. We dipped fresh kettle cooked potato chips and blanched asparagus in the hummus. That plate was licked clean by the end of the night.
Bill can't get enough of my Heirloom Tomatoes and Burrata, so I presented this dish in small serving cups topped with a crispy piece of toast for dipping.
He's a cucumber fan so I made Cold Cucumber and Cilantro Soup Shooters for sipping. 
Every appetizer table needs a cheese. Bill's top choice is always a fresh and rich salty chunk of parmesan.
Bill is mad about curry so I made small plates of bright orange and purple beets tossed with curry powder, olive oil, and fresh rosemary and then roasted and caramelized in the oven. Delicious!
And finally, as a decadent appetizer treat, I cut fresh Ahi Tuna Bites soaked in an Asian sauce. This was a take on my Cold Asian Noodle Salad with Fresh Ahi Tuna and it was out of this world!!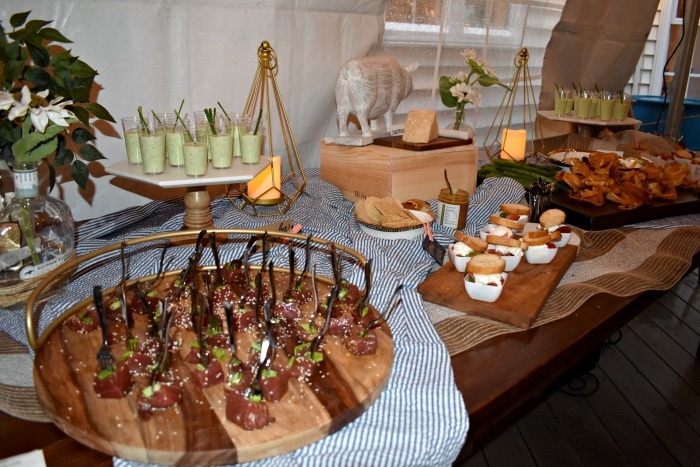 Because we never take ourselves too serious, we filled a wheelbarrow with ice cold 40's. A few male guests grabbed a bottle just to kick off the party and watch the pig in its final roasting stage.
I also featured a Bourbon Bar for my Bourbon loving husband. My Bourbon Wood Slice Banner and my Bourbon Bottle Centerpieces tied the space together perfectly.
Bill successfully roasted the most moist and flavorful pig! I served warm rolls and hot sauces to accompany the pulled pork. And of course, my husband thought it would be amusing to display that perfectly smoked pig head on the table. There's only so much I can control. 
And for those non-pork eaters, we made our popular Potlatch Smoked Salmon. That platter was empty in no time.
Smoky Bourbon Peach Baked Beans, Spicy Sriracha Slaw and Sweet Kale Salad accompanied the main course. 
The music blasted, the conversation flowed, and the laughter roared!
Guests left with a bottle of Bill's favorite rub, The Barbecue Rub, so they can get that same pulled pork flavor at home if they want.
Despite the downpour outside, guests stayed warm and dry under the tent and, from the looks of it, enjoyed the food and the fun!
This content uses Affiliate links. Please read my disclosure policy for more info.
*Malcom at Killer Hogs taught Bill everything he ever needed to know about smoking the tastiest barbecue. That's why Bill's go-to blend is The Barbecue Rub. It's the best! Try it for yourself!