It's a new year, a fresh start, and for me, it's purging time!
I can very easily fall into the category of hoarder if I let myself. I come from a family of hoarders (I'm talking about you, Dad!!).
I get it. It is tough to part with certain things. I have a ridiculous collection of wine corks! I seriously have not thrown away a cork since 2001. Don't judge me. They actually come in handy at times…but that's another post for another time.
Here are 15 things I am getting rid of in 2017…
Kids DVDs. Pretty sure The Boy graduated the Thomas phase like 9 years ago so why on Earth is this still on our shelf? This collection of children's DVDs has been around too long…and worse yet, our DVD player isn't even plugged in. My home is Amazon Prime video and Netflix dependent so I think it's safe to part with them. 
Old Melted Birthday Candles. Making my kids' cakes and using the perfect candle for the themed dessert has brought me so much joy. I know there are candles I can recycle and use again and I always do. But I'm pretty sure we are not having another 3 year old in this house and none of my little ones are going through the Elmo or Spider Man phase again. 
Old Tattered Dishtowels. These are reliable towels that get the job done (and I promise they don't even smell). I love them! I have had them for years. But it's time to start using the pretty and brand new towels in my drawer that aren't such an eyesore.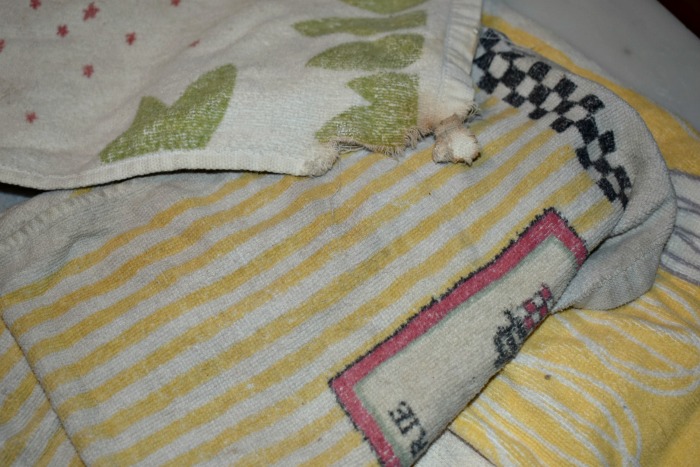 Oversized Ceramic Pitchers. No doubt these are attractive and could be useful. However, I have spent more time trying to find a spot for these then I have ever actually used them. They take up an entire cabinet of my kitchen hutch. So, I asked myself, "if I would walk into a Homegoods right now, would I buy these?"  My answer was no so off they go. 
Take-out Menus. We don't even do that much take-out. And when we do, we have our favorite go-to places with our favorite go-to items. See ya'!
Kids Plastic Cups. Old. Gross. Worn out. They aren't babies anymore that need a sippy lid. Enough said. I want my drawer back. 
Scratched, Used Sunglasses. I've held on to them long enough thinking maybe I'd use them while picking weeds in the yard or sledding down a crazy hill with the kids. Still hasn't happened. Buh-bye. 
Chipped and Mismatched Coffee Mugs. I can't be the only one that has a favorite coffee mug that's always being used. These old mugs are not being used. These mugs are cute and they get the job done. But they are mismatched and have some chips on them. They take up a ton of cabinet space and they haven't been touched in a few years. 
Beauty Samples. Okay, this one might drive some of my girlfriends nuts. Sorry, mamas. It's just not my style. I am a girl of routine. I like what I use and tiny little samples are not going to change my mind about that. 
Store Rewards and Coupons. I am not one to shop just because I received a discount in the mail. Right in the garbage. 
Plastic Placemats. Aw. Time flies and my kiddies are growing so fast. We used to buy every cute plastic placemat we came across in a store. My messy little eaters loved them! They have been stored on the shelf in my pantry for some time now and they are yellowed, stained, faded, and torn so I think it's time to say so long. My little eaters are still messy but they've moved on to spilling on my matching cloth placemats. I don't mind. 
Oversized Coffee Table Books. I have my fair share of charming books that adorn my shelves and coffee tables. I'm ready to part with a few that just seem to be clutter or duplicates at this point.  
Dated Picture Frames. I am a victim of "what if someday I want to use these…?" Well, I'm standing strong. I've stored these old frames for a few years and I'm confident that I won't want them in my decor again. 
Aprons. I am an apron wearing girl. Pretty sure Bill doesn't know what my outfit even looks like when he gets home from work because I am covered in my apron. I love a good fitting one. I'll admit, it is tough for me to part with that black Vera Bradley one. I have worn it for years and it is by far the most comfortable and reliable apron I have ever owned. The stains are pretty hidden but it has a huge tear on it. The others may have only been worn once but I never use them. I am confident in saying so long to all of these.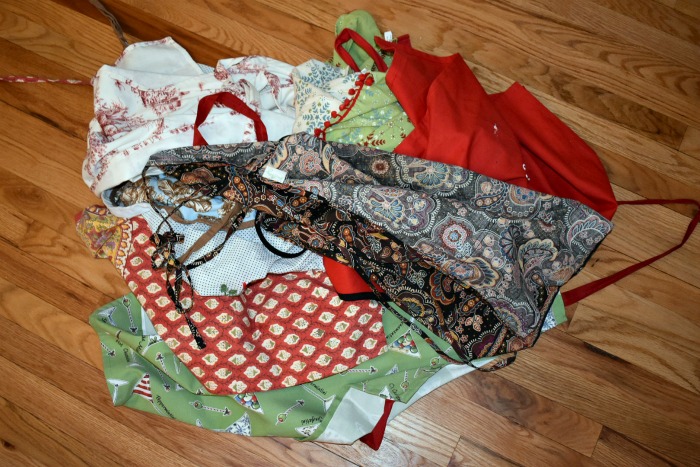 Souvenir Cups. That drink cost a fortune when we bought it and it was a great moment so we had to keep the cup, right? Well, several months have passed and they still haven't been touched. Those were some good times, for sure. That U.S. Open was one of the best dates Bill ever took me on. But, let's just be realistic. Who is really ever going to pull these out of the pantry where they are shoved in the corner to enjoy an ice cold drink? Not me.  
Sometimes the decision to part with pieces is arduous but that whole "out of sight, out of mind" philosophy is true for me. The smallest little achievements, like having an empty hutch cupboard, is rewarding and refreshing.
Happy New Year!
Tell me something you are getting rid of in 2017.