This post is sponsored by 7UP but the content and opinions expressed here are my own. Please drink responsibly.
Gather your girlfriends and toast to the summertime sun at this effortless garden-themed cocktail party. 

There's nothing quite like saying so long to dark wintry days and chilly temperatures and hello to bright blooms and warmer weather. It's the perfect excuse to host a casual garden-themed cocktail party. 
With my five easy hosting tips, you can plan a party in a pinch and enjoy a day in the sun with your friends. 
Decor
Keep the table decor simple by popping some fresh herbs into jars and bottles. The fresh greens give the party scape a laid back feel while still adding some simple elegance. 
Drinks
A beautiful cocktail is a must-have at any gathering. To keep it simple, set up a DIY cocktail-mixing station. A selection of juices and spirits allows your guests to create their own concoction.
For me, no DIY bar is complete without a little effervescence and 7UP is the perfect way to get that fun fizz. I'm really loving their new limited-time only summer packaging.
Look how festive and colorful these cans are on the table! 
This classic mixer kicks up any party spread and adds an exciting but light twist to otherwise standard drinks. It's the perfect companion to a fun and lively backyard event with friends. 
Garnish
Dress up your drinks with Veggie and Herb Infused Ice Cubes. Put them in a cute ceramic flower pot and let your friends transform their drinks with flavorful combinations.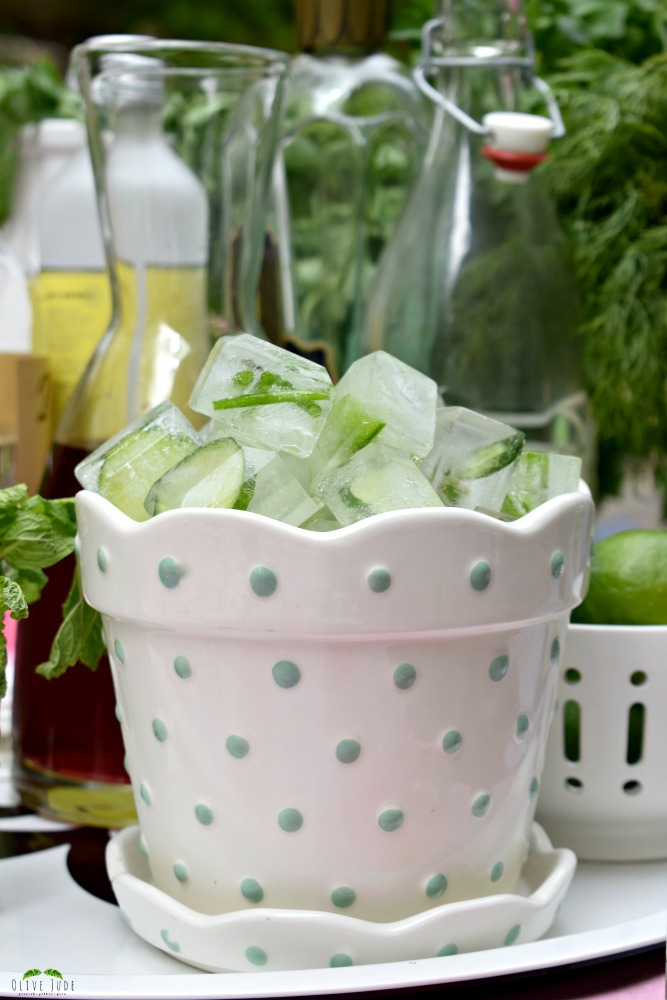 Cucumber, mint, basil, jalapeño, and even spring peas are just a few of the possibilities for brightening up your cocktail. These cubes elevate any drink and tie the garden theme together too.
The crisp, versatile taste of 7UP is also the perfect pairing to the herbal flavors here. Whether friends go with a cocktail or a mocktail, these pretty and flavorful ice cubes combined with refreshing 7UP mixes it up a little and makes what you're sipping on really special. 
Bites
Tasty, finger food is a cocktail party necessity. Easy appetizers that can be made ahead of time and served at room temperature are key to reducing party day stress so you can mingle with your guests. 
A few simple bites like my Whipped Feta and Mint Zucchini Rosettes are always crowd-pleasing and also keep with the garden theme. 
You can never go wrong with a popular dip like my 5 Minute Basil Cottage Cheese Dip. 
Party Favors
Finally, give guests an interactive experience and bring your garden party to life. Pile some colorful flowers and twine on the table and let friends create their own bouquets to take home. It's a sweet way to thank them for spending a fabulous afternoon together. 
Ready to host your own garden-themed cocktail party? You can do it in a pinch!
Check it out here!