When company arrives during the holidays, these flavor-packed butters are there when you need them. #ReadytoRoll #BakedWithCare
I can't believe it, but the holiday season is just around the corner. It's a season of celebration and togetherness while hosting family and friends, but holiday entertaining can also bring about some stress. Over the years, I've found some tricks in the kitchen to help me stay on top of the busy season with a little less effort and whole lot of readiness.
One of the most creative yet foolproof ways to make holiday entertaining a little more simple is to keep some flavor-packed compound butters on hand.
Compound butter is softened butter that is whipped up with a variety of sweet or savory ingredients. It is so super simple to make and the perfect way to add flair to an ordinary dish. Without putting a lot of time or effort into it, you can make a few different flavors ahead of time, pop them in the freezer or fridge, and voilà! They are there when you need them. 
When I'm hosting, I want to spend time with my guests and not be hovering over the stove. So without any additional cooking, I use compound butter to top traditional meats, vegetables and breads. The scrumptious butter flavors are conversation worthy and yet, they are a shortcut to flavor, a secret weapon in cooking, and leave you looking like the hostess with the mostess.
The combination of ingredients that you can use are endless. Not to mention, it is a brilliant way to use and preserve herbs from your garden before the winter frost sets in. No matter what the combo is, I always follow 5 main steps to get the perfect blend.
First, I always start with unsalted butter. I want to be able to control the amount of salt, especially if I'm making a sweet butter.
Second, I always make sure my butter is room temperature before adding in my other ingredients.
Next, I combine all my ingredients into a bowl.
Then, I use just a plain old fork to mix, mash and whip every thing together.
Finally, I scoop the butter onto a sheet of plastic wrap and gather the butter into a large mound and roll gently until I form a tube similar to the size of a stick of butter. I wrap the ends tight and freeze until ready to use.
When I'm keeping these delicious compound butters on hand, then I always make sure I also have Pepperidge Farm® Stone Baked Artisan Rolls in my freezer too. Crunchy on the outside, but soft and tender on the inside, these rolls are a must-have for stress-free entertaining this holiday season.
If you're a "from scratch" kind of baker, awesome!  But I am definitely not. Baking is not my thing. You knew that, right?
But fresh, warm rolls are definitely my thing and convenience is my thing too. And while I'm here talking about my "things," flavorful butter melted on a warm-from-the-oven Stone Baked Artisan Roll is totally my thing. You get my gist, right? Gotta' have these rolls with these butters.
Here are some of my favorite compound butters that I stock up on for holiday entertaining.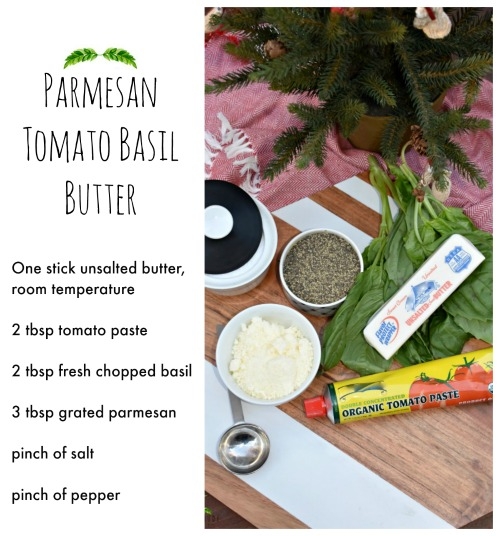 Now when guests show up, I can just heat up the oven, pull out my batch of Pepperidge Farm Stone Baked Artisan Rolls from the freezer, and thaw some compound butter.
My family and friends will be so happy with a delicious, flavorful butter and an incredibly fresh baked bread experience that they won't even notice my dirty floors or the piles of papers stacked high on the counter. I'm just going to sit back and sip my drink like a superstar because I just cut down on cooking time and holiday stress without cutting down on flavor.
Click here for a $1.00 off coupon and go grab your own bag of these dinner rolls to go with your compound butters. 
*Since it is also the season of giving, I like to make these butters for hostess gifts. I wrap them in freezer paper and attach a label. They are perfect for last minute tokens of thanks for all those holiday invites you'll be getting.