The bright color of the fresh blood orange makes a brilliant looking cocktail. 
This content uses Affiliate links. Please read my disclosure policy for more info.
Bill and I love a date night out for some unique cocktails and tasty apps…but sometimes, the fancy cocktails must stay home. So, when the mood strikes, I put away the Chardonnay and we turn into mixologists right in our own kitchen.
Tonight, we are making a refreshing twist on the classic margarita.
Our Boozy Blood Orange Margarita all started with a visit to our local liquor store when this bottle of Solerno wooed me in its direction.    
What is it about anything labeled "Blood Orange" that is so spectacular to me?
I know it is the vibrant, dark crimson red color that mesmerizes me, for sure. 
And I also love the tart, citrusy, bright flavor.
Perhaps, it is that the actual fruit only seems to make a brief appearance in my grocery store this time of year.
And when they do, I think it is the ideal time to shake up a tasty cocktail at home. In fact, I think they are the perfect excuse to shake up a refreshing margarita in the cool, end-of-winter weather. Am I right?
After squeezing the juice from the oranges, we combine the bold juice with the tequila, Solerno, and lime juice and give it a good shake.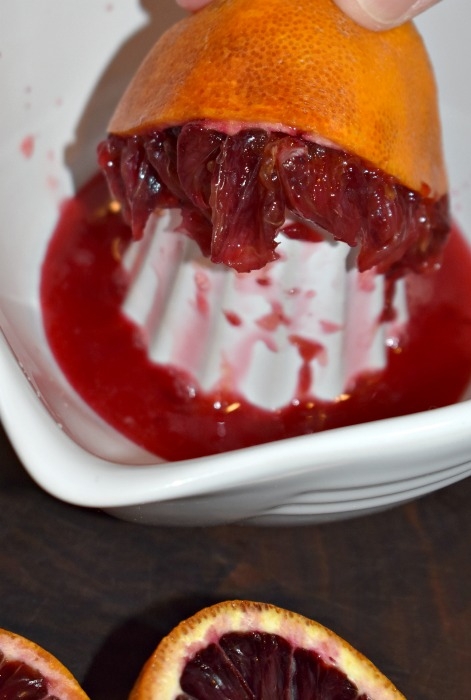 The oranges were particularly tart this time, so I'm adding 2 teeny tiny drops of vanilla extract. It is a perfect addition and sweetened the mix just a hint. 
I am a salt-on-the-rim margarita girl, but for a little switch tonight, I mix my salt with some brown sugar. The punch of sweet and salt that hits your lips combined with the tart blood orange and lime juice is an ideal match! 
Who wouldn't want to sip on this vibrant looking concoction?

I love to throw a curveball at a cocktail and this margarita was a tasty twist on a classic. 
This would pair nicely with my Butternut Squash Fajita Salad or my Quinoa Fish Taco Bowls!
*I have a small obsession with mason jars! I use them all over the house, but I really love having them on hand in the kitchen. Shop the entire collection and find the perfect jar for your space!

What is your twist on a classic margarita?
Boozy Blood Orange Margarita
The bright color of the fresh blood orange makes a brilliant looking cocktail.
Ingredients
4

ounces

Tequila

4

ounces

fresh squeezed blood orange juice

2

ounces

Solerno Blood Orange Liqueur

2

ounces

fresh squeezed lime juice

1-2

drops pure vanilla extract

2

tsp

salt

1

tsp

brown sugar

blood orange and lime slices for garnish
Instructions
Mix together the salt and sugar on a small plate.

Run a wedge of lime around the top of your glass.

Dip the top of the glass into the salt blend and roll to coat the edge.

Fill a cocktail shaker with the tequila, Solerno, blood orange juice, and lime juice. Shake vigorously.

Add a drop or two of vanilla extract to balance the tartness of the juices and to give more sweetness. Shake again.

Fill your glass with ice.

Pour the margarita over the ice.

Garnish with a lime and blood orange slice.

Cheers!