This version of a steak fajita salad will comfort you in the winter while reminding you of warm summer days. 
I'm really excited for this post today because last night I got out of my winter funk. I'm seriously missing those warm days of summer where it seems any time is a good time to sip a margarita and chow down on guacamole. (am I right tennis ladies?)
I am not a winter person. I am a flip-flop and sundress kinda' gal.
Though this cold, dreary weather makes comfort foods seem oh so right, my cravings for a good bowl of my chunky guacamole are maximized. I could eat some chunky guac every day. And so last night, I did!
On top of my excitement for eating guacamole, my uncertainty for what I wanted to eat with it sparked some creativity. And when my creative juices get going in the kitchen, all the stress goes out the window.
I decided on a steak fajita chopped salad bowl. Perfect! What's better than a colorful bowl full of fresh goodies!?
But I needed to winterize this dish and make it more seasonal so here's what I did…
I started by making a simple marinade for this skirt steak to rest in. I tossed fresh pressed garlic, kosher salt, pepper, cumin and a dash of cayenne to my bag. To that I added fresh squeezed lime juice, lime zest, and olive oil. Easy peasy.
*Here's a tip…when you are making your marinade in a zip-lock bag, put the bag in a large cup to prevent spilling and to make it easy to toss in the ingredients. I've clumsily spilled some marinade one too many times by trying to juggle the bag and add ingredients at the same time.
I tossed the skirt steak in and let it marinate for at least an hour.
I can't have a fajita dinner without some caramelized onions and sautéed peppers. I had these little peppers so I sliced them thin. I loved the color they added to the bowl.
While the steak was bathing in the vibrant juices, I roasted some butternut squash. BOOM! I just winterized my salad, don't ya' think?
Ok, it is time to make the magic! Let's get our GUAC on!!!
We prefer a super chunky, full of flavor and texture guacamole in this house. Bill, Mags and I pretty much fight over the bowl.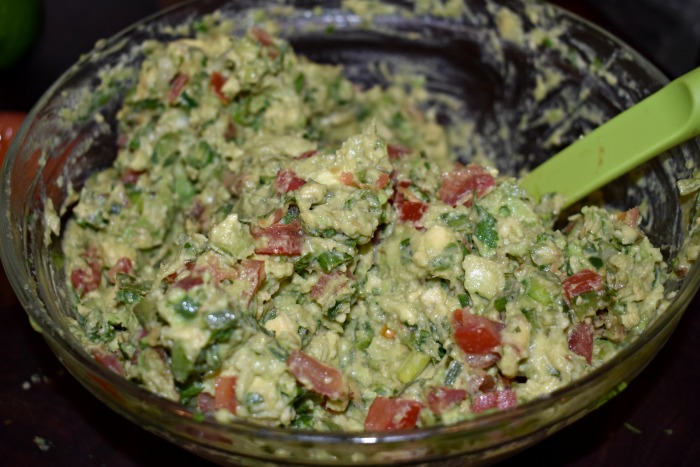 I could probably eat anyone's version of guacamole, but a bowl that is ridiculously full of crisp ingredients is my favorite.
For some more crunch in this salad, I tossed some chopped romaine with a little olive oil, lime juice, and salt and pepper. I also made some brown rice because the kids needed more of a filler in their bowl.
The steaks have been grilled and we are ready to put all these ingredients together. I also had some fresh Queso fresco and multi-grain tortilla chips that can both be crumbled over the top.
When I started to build these bowls, I lined up the family, let them customize their toppings, and I pretended that I am an artist and that those bowls were my blank canvas. They pretty much all rolled their eyes at me. But I've got my winterized fajita salad and my chunky guacamole so it doesn't bother me…though a margarita would have been nice.
The creaminess and the warmth that the butternut squash added to the salad was so ideal for this wintery time of year. I'll definitely be making this again when I need to be pulled out of my winter slump. 
This salad was quick, easy, healthy, seasonal, and comforting.
Pretty sure I liked it. Next time, I think I'll serve it up with one of my Spicy Mexican Mules!
What are some toppings you add to your salad in the winter? 
Chopped Steak Fajita Salad with Butternut Squash
This version of a fajita salad will comfort you in the winter while reminding you of warm summer days.
Ingredients
Steak Marinade
4

garlic cloves

pressed or minced

1/2

tsp.

kosher salt

1/4

tsp.

pepper

1

tsp

cumin

Dash or more of cayenne pepper

optional

2

limes

juice of

4

tbsp.

olive oil

Zest of half a lime

1 1/2

lbs.

skirt steak
Toppings
1

red onion

roughly chopped

1

pepper

green, yellow or red, sliced or chopped

1

cubed butternut squash

romaine lettuce

chopped and tossed with lime juice, olive oil and salt and pepper

fresh Queso Fresco

desired amount for crumbling on salad

multigrain chips

cilantro

rough chopped

Chunky guacamole

see recipe on blog
Instructions
Heat oven to 350 degrees.

Mix the ingredients for the marinade in a large plastic zip lock bag. Add the skirt steak and let marinate for at least 1 hour.

On a baking sheet, toss cubed butternut squash with olive oil, salt and pepper and roast for 30 minutes or until tender and starting to brown on edges.

Grill the skirt steak to desired doneness.

In a frying pan, sauté the chopped red onion in olive oil until just starting to brown on the edges.

Add the sliced peppers to the same pan and sauté for another 5-8 minutes or desired doneness.

Build your bowl by adding all ingredients one at a time around the bowl. Top with a heaping spoonful of chunky guacamole.

Crumble some fresh Queso fresco on top.

Enjoy with tortilla chips.
Recipe Notes
Fajita bowls can be customized with any of your favorite toppings.
Try the marinade with chicken or shrimp too.