A fresh guacamole recipe is so easy to make. This version is chunky and full of crisp ingredients!
Is there anything better than a fresh batch of guacamole for an appetizer!? Raise your hand if you love it!! You don't really need a guacamole recipe to make a fantastic tasty serving of it. As long as you have some key ingredients, it will taste delicious!
I could probably eat anyone's version of guacamole. I'm obsessed with avocados so anything mashed up and mixed with it satisfies me just fine. Bill and I do, however, prefer guacamole ridiculously chunky! In fact, one time when my MC went to mash my already mixed bowl of it, Bill and I both screamed "NO!" in unison. Sorry, little one.
I like to start with a big bowl of goodies before adding the avocado. I always vary a little and you should too, but in general, I use 3 on-the-vine tomatoes. I always scrape all the seeds and juices out of my tomatoes so I don't get a runny, mushy mix.
To the tomatoes, I add one whole deseeded jalapeno that has been finely chopped.
I toss in an entire bunch of finely sliced scallions and a huge handful of chopped cilantro.
The magic happens when I add fresh minced garlic to the pile of madness. I usually go with 2-3 cloves, but I say the amount of garlic is a personal choice. Plans for kissing your better half later? Then don't overdo it.
A pinch or two of kosher salt, a pinch of pepper, and a squeeze of one whole lime and then it's time for the creamy goodness. To the bowl, I add four fresh avocados in all their gorgeous green glory!
I love this handy little tool that I have had for years! But a fork works just fine.
Couldn't you just make a meal out of this?  I can! And I think I'll serve it with my Spicy Pink Paloma or a Spicy Mexican Mule too!
Try adding it to this fajita salad to make your greens more brilliant! Top your grilled chicken with it and you'll be glad you did! It's so fabulous and fulfilling!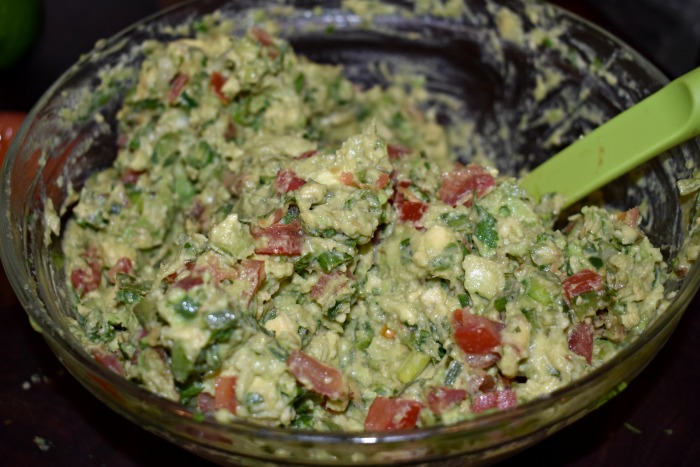 What do you add to your guacamole?
Chunky Guacamole
A fresh guacamole recipe is so easy to make. This version is chunky and full of crisp ingredients!
Ingredients
4

avocados

3

on-the-vine tomatoes

deseeded

1

finely chopped jalapeno

deseeded

1

bunch of thinly sliced scallions

1

handful of chopped fresh cilantro

2

fresh garlic cloves

minced

1

fresh squeezed lime

pinch

of salt

pinch

of pepper
Instructions
Cut the tomatoes in half and scoop out the insides. Dice the tomatoes into small chunks and add to a bowl.

Cut the jalapeno in half and cut out the seeds and the white parts. Finely chop into small cubes and add to the bowl.

Thinly slice a bunch of scallions, both green and white parts, and add to the bowl.

Finely mince 2 or more fresh cloves of garlic and add to the bowl.

Roughly chop a handful of fresh cilantro and add to the bowl.

Squeeze the juice of one lime into the bowl and add a pinch of kosher salt and pepper.

Add the avocados to the bowl and begin to carefully mash and stir together all the ingredients, being sure to keep the avocado in soft chunks.