This content uses Affiliate links. Please read my disclosure policy for more info.
Love is in the air and Valentine's Day is just around the corner so my girls and I made this simple, sweet and festive topiary.
I love DIY home décor that can be whipped up in one afternoon, yet looks like you hit the Homegoods jackpot! This is definitely one of my favorite little projects we have ever tackled.
I promise this DIY is easy enough for anyone to do! Follow along for a step by step guide to making your own topiary.
1. First, you'll need your supplies.
Pick your pot. This will help determine the size and height of your topiary. I had a 4 inch clay pot from Michaels that I was excited to use. You could also try using a metal bucket, a box shaped planter, a basket or any other container as the base. Be creative!
You'll need a round styrofoam ball. I chose this 6 inch styrofoam ball. Make sure the size of the ball is bigger than the diameter of the pot opening. This will ensure that your topiary is balanced.
Next, you'll need green foam to put in the base of the pot. Ideally, it would be nice to have a pot insert but I happened to have a green foam block on hand so I just shaped it to fit in my pot.
Now that you have the base and the top, you'll need something to connect those pieces and serve as the stem. I wanted my topiary to have a natural quality to it, so I sent my honey in the backyard to fetch me a straight stick. It is perfectly adorable to also use wooden dowels and customize them with your own paint color. For this project, my stick was about 12 inches in length.
Pins! You'll need tons of pins! I used Singer dressmaker pins and they worked perfectly.
You'll also need some beautiful moss to add a touch of nature and texture to the bottom. I could seriously get caught up in putting this beautiful moss everywhere. I love the color of this Chartreuse Reindeer moss but you could use any moss you like.
Finally, for the fun part! The lovely florally top! I considered using felt and cutting my own circles, but honestly, who has time for that? After much brainstorming, I thought it would be a resourceful idea to use decorative faux silk rose petals. Perfect for Valentine's day and…I didn't have to do any cutting! Winner!
The only other thing you'll need is a hot glue gun, so fire that up and get ready to add your petals.
2. Get set up. Spread out your rose petals so you can grab them quickly. Add your pins to a bowl. If the supplies aren't easy to grab, trust me, you'll get sick of adding the petals very quickly.
3. Take one petal and fold it in half lengthwise. Then fold it in half again so you make a triangle shape.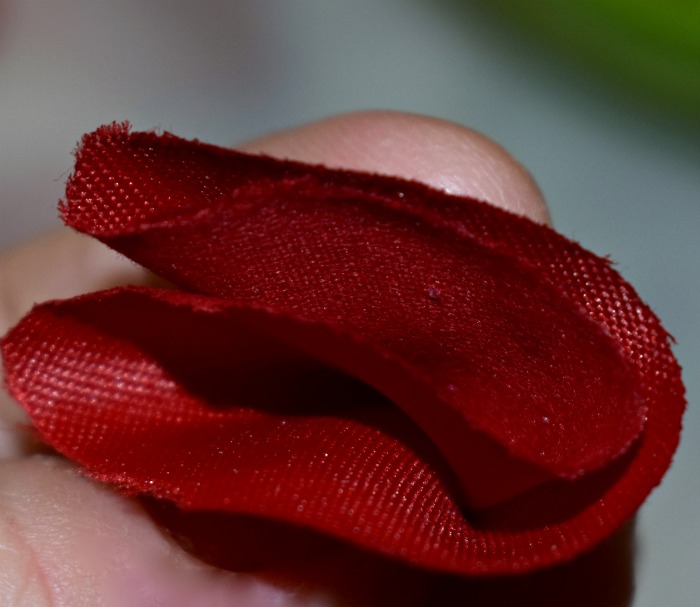 4. Pierce the petal in the folded corner with your pin and push the pin into the foam ball.
5. Repeat, making sure to place the petals close together so the petals "stand tall" and upright.
6. 7. 8. 9. Repeat. Repeat. Repeat. Repeat.
My girls started off the project and really enjoyed it! But about halfway through, they ditched me. So, I poured myself a glass of wine and realized I could put 2 petals on a pin at a time.
10. Once the ball was almost entirely covered, I decided to go ahead and add the stem. I punctured both pieces of foam with the stick and continued on with my petals. (and I think I started to see actual red spots because I added 500 petals to this topiary!)
11. Using hot glue, attach the moss. So easy and adds so much to the decor piece!
12. For a special little touch, add a bow to the stem using the ribbon of your choice.
When all the petals are attached, check for any white spots peeking through and twist or turn the petal to hide that spot.
Now, step back and admire! Isn't it fantastic!?
I love the way the rose petals look! They add so much depth to the topiary because one side is shiny and the other is matte.
The hardest part of this project is deciding where to place it when it is done.
Do you have a DIY Valentine decor idea?
This content uses Affiliate links. Please read my disclosure policy for more info.
Shopping List