Dress up your garden party drinks with flavorful veggie and herb infused ice cubes.       
It's no secret that I love a good garnish! For my casual backyard garden party, my veggie and herb infused ice cubes added a special touch to drinks, giving guests a fuss-free way to create their own flavorful cocktails. 
Whether friends mixed up a cocktail or a mocktail, these pretty ice cubes elevated our drinks and made what we sipped on really special by adding subtle flavor notes and a perfect pop of color. 
Served in a cute ceramic flower pot, they also worked double-duty as decoration, tying the garden theme together as they adorned my DIY bar.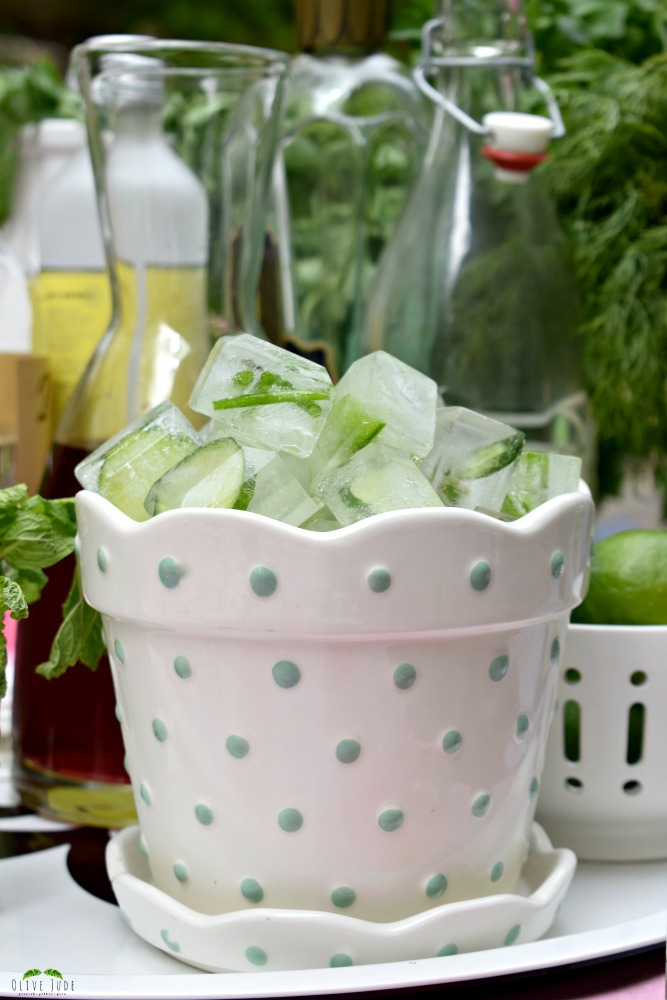 This content uses Affiliate links. Please read my disclosure policy for more info.
How to Make Veggie and Herb Infused Ice Cubes

Use Easy Release Silicone Ice Trays so the ice cubes pop out without breaking them.
Cut and prepare your veggies and herbs making sure they are the appropriate size to fit in each cube mold.
Place veggie slices or herb leaves into the bottom of each mold.
To achieve the look of floating veggies and herbs, begin by covering each one halfway with distilled water. Freeze.
Remove trays from freezer and fill with more distilled water to the top of the mold. Freeze again.
Pop cubes out of tray and enjoy any flavor combination you desire.
Veggie and Herb Ice Cube Flavor Combinations
Cucumber, mint, basil, jalapeño, and even spring peas are just a few of the possibilities for adding flavor to ice cubes. Here are some of my favorite combinations.
Cucumber Mint
Cucumber Jalapeno
Spring Pea and Basil
Basil Mint
Basil Cucumber
Chive Basil
Tarragon Cucumber
Mint Basil Tarragon
These ice cubes aren't just for the cocktail enthusiast but they also brighten up sparkling waters and seltzers and pair perfectly with additional garnishes like lemon and lime.  Guests love them!
Ready to make your own garden party ice cubes to give your drinks a flavor boost? Grab these trays and get started!
This content uses Affiliate links. Please read my disclosure policy for more info.
3 Packs Ice Cube Trays Silicone Ice Trays with Lids Easy Release Ice Trays Set Make 45 Large Ice Cube Flexible Ice Cube Mold with Ice Tongs
Note: Some parts of the leafy herbs like the basil did discolor and darken a bit, but the drinks still had a tasty herbal flavor infusion.