This content uses Affiliate links. Please read my disclosure policy for more info.
If your friend is moving across the country, you throw a party.
Before you throw a party, you pick a theme.
Once you pick a theme, and you're me, you start planning obsessing.
My dear friend and her family were moving to San Francisco so what better theme for this party then the new place she would call home.
With a theme comes a color palette. Choosing colors for a party or celebration is a must in my book. An organized color palette helps tie the food, drinks, and party accessories together, giving the event some energy and life.
And what is more iconic to San Francisco then the bold red Golden Gate Bridge?
Red was my main color, but I also infused touches of green, aqua and yellow that I felt was appropriate for this summer get together.
The custom hang tags and twine were purchased from elChoffel at Etsy and worked perfectly as napkin rings.
A signature cocktail is always a must when party planning so we sipped on Prosecco and popsicles. Simple, sweet and refreshing for a hot summer day…and who knew popsicles were invented in San Francisco?
We munched on some signature dishes from The City by the Bay, like clam chowder, sour dough bread and Green Goddess dressing. 
I also made one of favorite party appetizers, my Toasted Cheese and Dill Hors d'oeuvres, but on wheat bread this time. 
My red velvet cupcakes were adorned with the iconic red bridge and a sweet farewell too from elChoffel .
The very patient man at our local liquor store helped me find wine and beer labels to go with this iconic city. And this beer and wine not only adorned the themed table, but served as a little take home gift for my friend and her husband. And when packing up your home and moving across the country, I couldn't agree more, keep calm and have a cocktail…
Tented cards with some interesting facts about San Francisco were placed around, sparking some conversation and giggles.
I can't take credit for making homemade fortune cookies, but this take out box was stuffed with sweet sentiments and fun(ny) memories written by our guests. We all had some good laughs down memory lane!
There was even a Rice A Roni centerpiece, because, why not? Told you I obsess.
And this adorable print collage map of SF from LoosePetals was another take home gift for our guest of honor. I adore the city art prints from this shop!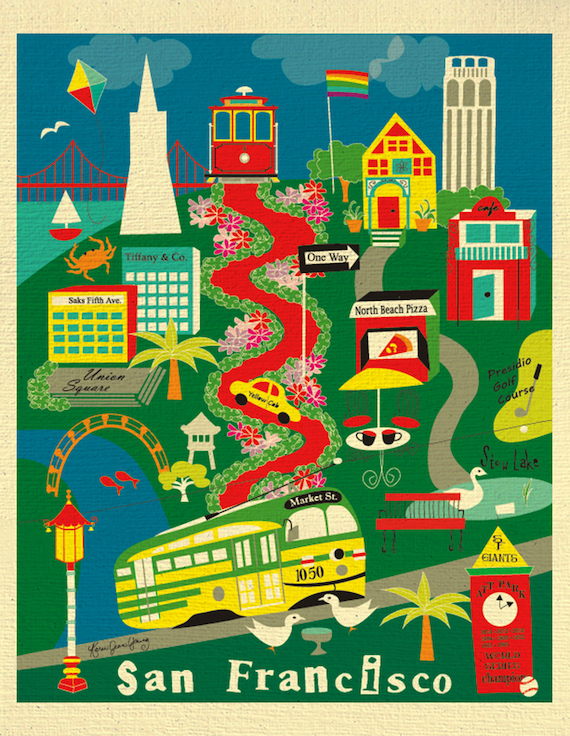 The guests left with seed packets of Forget Me Nots and California Poppys and before saying farewell, everyone wrote a friendly little note to our sweet friend. I mailed these notes to her over the next few months in hopes her far away friends could make her smile and let her know how much we miss her. And we sure do!
Do you have any other ideas for a farewell party?

Photography by my talented and lovely friend, Beth Jonsson