You just can't beat a tasty side dish that is easy to make and will be a family favorite for years. 
Jude's favorite recipes included sugar. If it didn't, then she would figure out a way to add it. Her chili soup had brown sugar in it. Her meat sauce had brown sugar in it. Even her stuffed peppers had brown sugar in it.
One of my mom's most popular "brown sugar" dishes that the whole family loves is her Bacon Barbecue Green Beans. I call them "smothered" because that is exactly what they are…smothered in an irresistible brown sugar tomato sauce.
Made from canned beans, they are the easiest side dish to throw together for a summer family dinner or for entertaining a large crowd. The best part? They only require 5 ingredients!!! What's not to love about that?!
It starts by simply cooking diced bacon in a skillet. I like to use the thick cut bacon but go ahead and grab whatever bacon you prefer.
When the bacon looks about halfway done, add some sweet diced onions.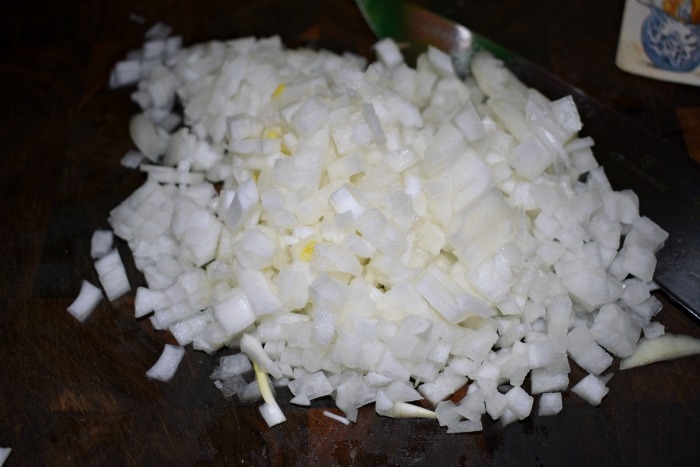 In the meantime, mix together Campbell's Tomato Soup and a big heaping 1/2 cup of brown sugar!
Scoop about 2 tablespoons of bacon fat from the pan and add it to the soup and sugar mixture too. I never said this was a healthy dish, but you won't regret it, I promise.
After I've drained the onions and the bacon on a paper towel, I add them to the soup mix.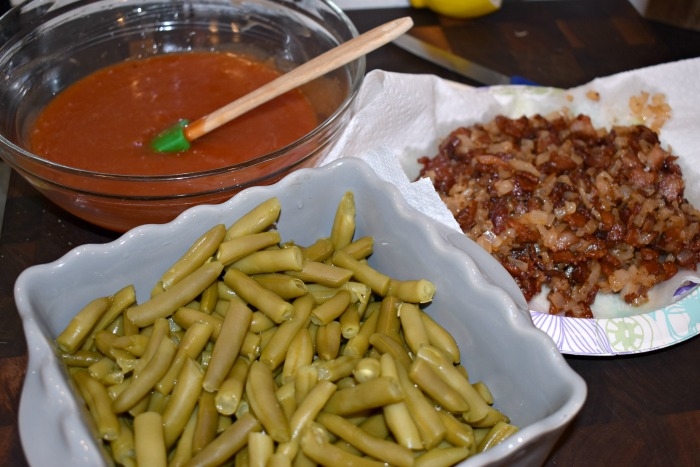 Pick a casserole dish, drain and pour your cut green beans in the dish, and then smother those green beans in this sweet and smoky barbecue sauce.
Give it all a gentle toss to coat the green beans evenly.
Pop it in the oven for an hour until you get these bubbly, caramelized, sweet to taste, smoky bacon flavored green beans.
Seriously, it tastes like green bean candy. One scoop is just not enough.
Guarantee you'll be back for seconds. I've never met a person that didn't absolutely devour this incredible side dish.

They taste delicious with any summer dinner from the grill.  They are a hit paired with a juicy cheeseburger, grilled chicken, or a grilled summer hot dog.
They are perfect for a casual family picnic, yet elegant enough to serve to your guests at a special get-together.
Do you have a favorite dish that is loaded with brown sugar?
Jude's Smothered Bacon Barbecue Green Beans
You just can't beat a tasty side dish that is easy to make and will be a family favorite for years.
Ingredients
2

cans cut green beans

drained

1

can Campbell's Tomato Soup

8

slices

bacon

diced

1

vidalia onion

diced

1/2

cup

brown sugar
Instructions
Fry bacon in a skillet. When cooked halfway, add onions.

Reserve 2 tbsp of fat.

Transfer bacon and onions to a paper towel covered plate and drain.

Combine soup, brown sugar, and reserved fat. Stir to combine.

Add bacon and onion to the soup mix. Stir.

Add the green beans to a small casserole dish. Pour the soup mix over top. Gently stir to evenly coat.

Bake at 350 degrees, uncovered, for 1 hour until bubbling and the top is beginning to brown and caramelize.