A classic summer salad goes Mexican-style for a lunch time fiesta. 
Summer vacation means sleeping in and hanging by the pool. It means a week of carefree schedules followed by a week of chaotic camp drop offs and picks ups. It means late dinners on the deck and staying up way past bedtimes.
It also means multiple grocery store trips all week long just to keep up with the hungry bellies of my kids.
My kiddies all buy school lunches, so I am not accustomed to keeping loads of lunch options in the refrigerator. In the summer though, the clock strikes 12 and suddenly my 3 young ones are "starving" with "nothing good to eat" in the house.
I feel like summer is the hungry season for my kids. Maybe it is the days spent swimming in the pool that makes them hungrier? Or the quiet days at home where hunger is triggered by some boredom? Either way, I can't seem to keep my pantry and fridge stocked to their liking.
It's possible that they actually grow a greater appreciation for the school lunch menu options over the summer. Cold cut and cheese sandwiches, peanut butter and jellies, and leftovers get old pretty quickly.
So, this week I decided to whip up a batch of egg salad for a little lunch variety in the house.
I am a big fan of egg salad, especially in this season's heat. And my girls would live on hard boiled eggs if I let them.  It's a convenient make-ahead and keep-in-the-fridge lunch option that is protein packed and full of flavor.
For a twist, I'm making this egg salad Mexican-style this time.
I'm adding some proven Mexican ingredients like lime, cilantro, green onions, avocado and jalapeño. These are some of my favorite additions to any recipe and, here, they are kicking up the egg salad and making this lunch anything but boring.
And instead of weighing this down with all mayo, I'm mashing up some avocado and lime and mixing that with just a hint of mayo. I still get my creaminess with a little less guilt. Not to mention, I'm sneaking in a healthy veggie that only one of my kids prefers.
Tossing in cumin and chili powder with the avocado-mayo mix gives my egg salad a kick. It's an egg salad fiesta, of sorts. LOL.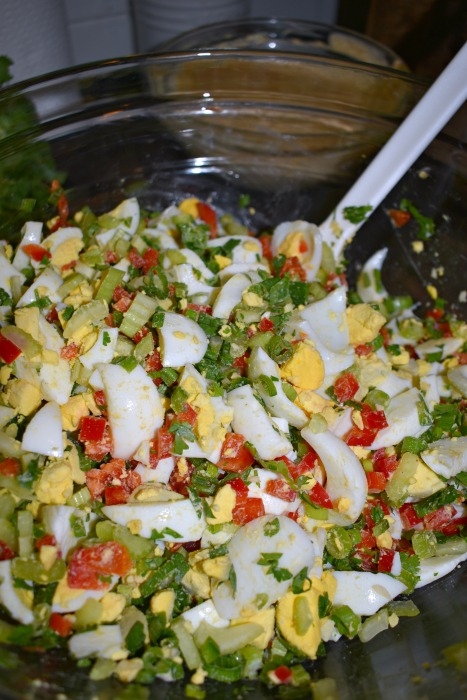 Big colorful fresh chunks of ingredients is just how we like it, similar to my Chunky Guacamole. 
To serve, we spread this in a tortilla wrap or just grab some tortilla chips and get busy dipping and chowing down.
It's a little summertime party in a bowl and it will keep lunchtime boredom to a minimum…at least for a day or two.
Do you have a twist on a traditional egg salad?
Mexican-Style Egg Salad
A classic summer salad goes Mexican-style for a lunch time fiesta.
Ingredients
12

hard-boiled eggs

peeled and roughly chopped

1

bunch scallions

green only

1

red pepper

diced

2

garlic cloves

minced

4-5

celery stalks

diced

1-2

jalapeno peppers

finely diced

1/4

cup

cilantro

chopped

1

lime

1

avocado

mashed

1/2

cup

mayonnaise

1

teaspoon

cumin

1

tablespoon

chili powder

1

tsp

salt

1/2

tsp

pepper

cayenne pepper

optional
Instructions
Place first 7 ingredients in a bowl. Gently toss to combine.

In a separate bowl, mash avocado until smooth and mix with the juice of one lime for flavor and to prevent browning.

Add the mayonnaise and the spices to the avocado and stir to combine.

Fold the avocado mayo mixture into the egg mixture with the salt and pepper. Stir to combine.

Chill for 15 minutes.

Garnish with cayenne pepper (optional) and serve with tortilla chips or spread on a tortilla wrap.
Recipe Notes
Add 1 cup of shredded cheddar, if desired.
Salad should stay in refrigerator for up to 3 days.