Roasted and pureed cauliflower gives this soup its silkiness, making it a better-for-you version of cream of mushroom soup. 
It's been a few weeks now that my husband has been craving and requesting a mushroom based dish. While I know he likes sautéed mushrooms with a good steak, this was a surprising request and I loved the challenge! 
I knew I wanted to make a hearty, earthy soup, but I just couldn't get into the soup season with all the heat we still had. So, I avoided my husband's request for weeks…
Until now. It finally feels like soup weather and Bill is going to be so satisfied with this dish!
With a little inspiration from my Creamy Coconut Curry Cauliflower Bisque, I decided to lighten up a classic cream of mushroom and cook a won't-stick-to-my-hips-type version.
First, the mushrooms. The key to getting the rich mushroom flavor is to use a mix of wild mushrooms. I roasted white buttons, shiitake, crimini, and portobellas. Roasting them brings out their earthiness even more making this a soup of mushroom lover's dreams.
The secret weapon in making this a lighter version of a classic is pureed cauliflower. 
This roasted cauliflower and half of the mushrooms get tossed into a mushroom broth that had been simmering away with shallots, garlic, thyme and sherry. All these ingredients perfectly compliment the woodsy flavor of the mushrooms
Then I let my immersion blender do all the work to turn this into a decadent and thick soup.
The taste of the cauliflower was not evident, but it certainly was the reason this soup was so silky and creamy.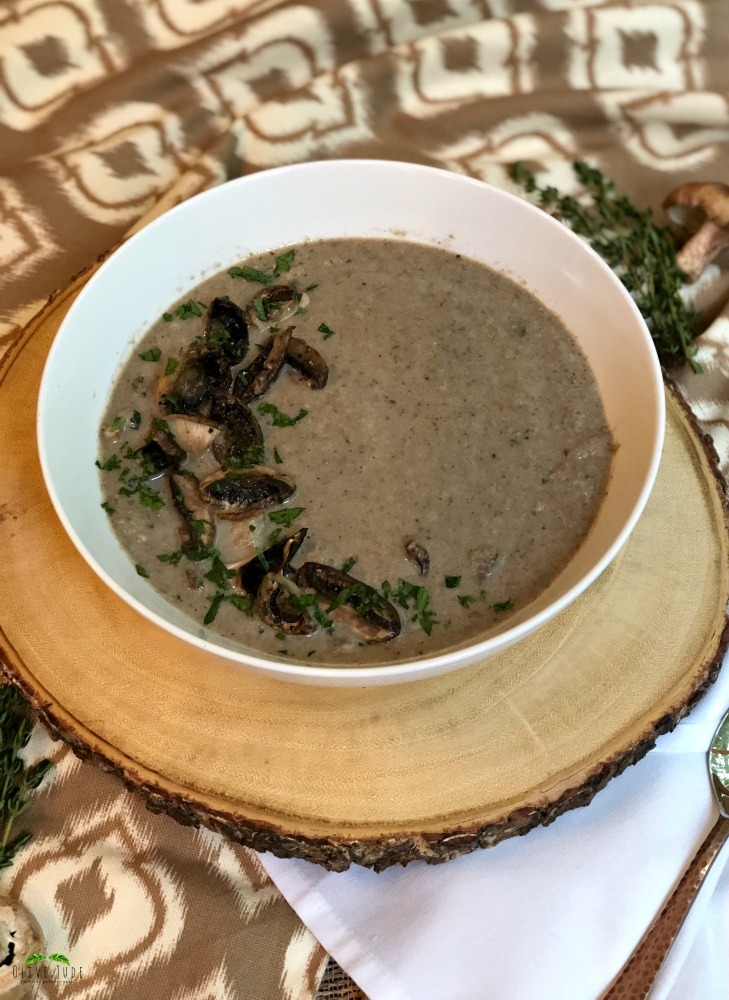 And we all agreed that the best spoonful was a meaty bite from the reserved mushrooms that were stirred in. 
I did it! I conquered Bill's mushroom craving with this fall soup. 
Wonder what his next food craving will be? I can't wait to hear!
Have you ever substituted pureed cauliflower for cream in a soup?
Roasted Cauliflower-Cream of Mushroom Soup
Roasted cauliflower gives this soup its silkiness, making it a better-for-you version of cream of mushroom soup.
Keyword:
cauliflower mushroom soup, mushroom soup
Ingredients
6

cups

Mushroom Broth

2-2.5

lbs

mushroom variety

sliced

1

medium head of cauliflower

roughly chopped

salt and pepper

to taste

olive oil

2

tbsp

butter

1

shallot

roughly chopped

2

garlic cloves

roughly chopped

1

tbsp

thyme

chopped

1/2

cup

sherry

fresh parsley

for garnish
Instructions
Preheat oven to 400 degrees.

To a parchment lined cookie sheet, add the mushrooms, drizzle with olive oil, salt, and pepper and toss to coat.

On another parchment lined cookie sheet, do the same thing with the cauliflower.

Please the mushrooms on the bottom rack and the cauliflower on the middle rack of the oven.

Roast for 30 minutes or until the cauliflower is beginning to turn golden brown and both vegetables are fork tender.

Meanwhile, in a large dutch oven pot, melt the butter.

Add the shallot and cook 3-5 minutes, stirring occasionally.

Add the garlic and the thyme and cook for about 1 minute.

Add the sherry and bring to a low boil, cooking about 5 minutes and stirring occasionally until reduced by half.

Add the broth and bring to a boil. Reduce to a simmer and cook for about 10 minutes.

Remove cauliflower from the oven and add to the pot.

Remove mushrooms from the oven.

Add half the mushrooms and all its juices to the pot. Reserve the rest of the mushrooms for adding to the soup later.

Puree the soup in the pot using an immersion blender, or transfer to a blender and puree in batches, then return to the pot.

Chop the reserved mushrooms and stir into the soup, keeping some for garnish is desired.

Ladle into bowls and top with more mushrooms (optional) and fresh parsley. Season with salt and pepper to taste.
Recipe Notes
Use a variety of mushrooms like cremini, shiitake, and portabellos for more richness. 
Use vegetable broth as a substitute.