Spring is in every bite of this pretty little tart! 

I can feel it! Spring is in the air! With the arrival of warm days, green grass, bright skies and first blooms, comes my desire for a little springtime hospitality. The welcoming of spring is the perfect season for a daytime get-together.
When it comes to entertaining, Pepperidge Farm® Puff Pastry Sheets are the perfect option to keep on hand in my freezer. Whether it's a special party or a simple spring day, I can serve a dish to my friends that is elegant and impressive-looking but, easy and uncomplicated to whip up.
Pepperidge Farm Puff Pastry Sheets are the perfect ingredient to make a wow-worthy appetizer with very little effort!
Grab them from the freezer section at the grocery store and get ready to make a Pinterest-worthy dish. It's simpler than you might think. 
My favorite way to use these Puff Pastry Sheets is by forming individual tarts. Once baked, they are the tastiest little vessel for holding seasonal ingredients with style.
To start, I let the Puff Pastry thaw a bit and then I roll out the two sheets. I cut each sheet into four individual squares, so each guest will be able to grab their own tart.
I'm looking to add a little personality in the presentation, so I want to create an attractive border on my tart. I begin by cutting 1/2″ wide stripes from all four sides.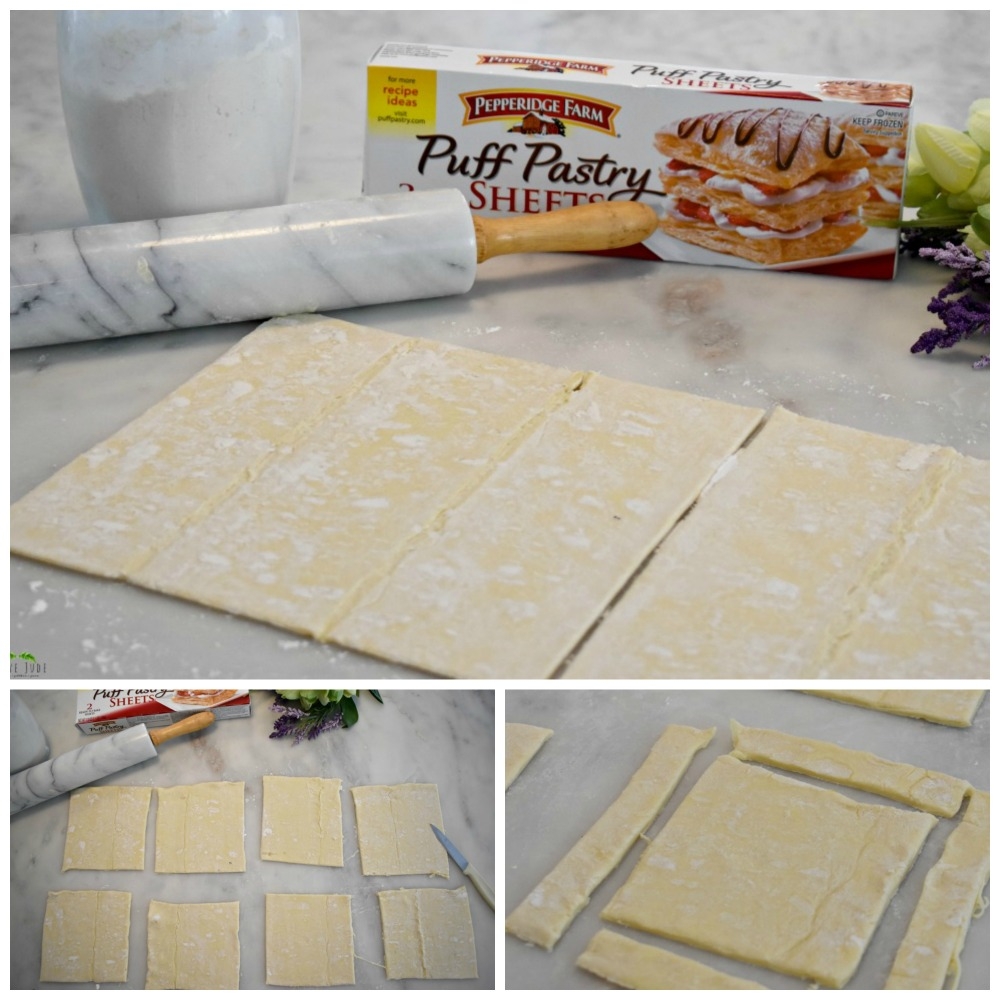 After brushing with a little egg wash to bring out the pastry's golden color even more, I create a border with the strips, tucking the longer ends under. I press my fork into the border for some texture and give that edge an egg wash too. Finally, before baking, I poke the center area with a fork.
This pastry goes from freezer to fabulous in no time! In under 20 minutes in the oven, these puff up into something beautifully light, airy and perfectly golden. That's how easy it is to work with Puff Pastry Sheets and make lovely little tarts that you'll be tempted to eat right out of the oven.
Now to make this a spring-worthy treat to serve to my guests…
It's that time of year where I begin to shift to bright and fresh seasonal ingredients in the kitchen and my favorite introduction to spring cooking is delicious sweet peas. I love the delicate flavor of a sweet pea. 
Peas don't need much to shine.  A simple medley of ingredients highlights the natural sweetness of the peas. Garlic, olive oil, and fresh mint are blended together with the peas to make a creamy purée that screams springtime.
To build the tart, I start by spreading this vibrant purée in the center. And then I top the that with delicate pea shoots and a thin sliver of radish. Crumbled feta provides a tangy and briny punch. And finally, I add more herbal brightness with a sprinkle of mint ribbons and lemon zest.
The essence of spring is in every bite of this tart. It's not only attractive, but it is bursting with flavor!
The pretty golden brown color and light, flaky texture of the Puff Pastry makes this simple appetizer remarkable. I love the "puff" and the individual layers that form, holding my springtime toppings perfectly.
Have you made impressive-looking tarts with Pepperidge Farm Puff Pastry yet?
Try your own Puff Pastry creation! For recipe inspiration, visit the Puff Pastry website to discover more ways to use these convenient and delicious pastry sheets at your next get-together.
Spring Puff Pastry Tart with Sweet Pea Purée
Spring is in every bite of this pretty little tart!
Ingredients
Pepperidge Farm® Puff Pastry Sheets

1

egg mixed with splash of water for egg wash

sprinkled flour for rolling pastry
Pea Puree
2

cups

fresh or frozen peas

room temperature

2

cloves

of garlic

roughly chopped

3

tbsp

olive oil

1

tbsp

fresh mint leaves

pinch

of salt and pepper
Toppings
pea shoots

radish

thinly sliced

reserved fresh sweet peas

zest of 1 lemon

mint leaves

cut into thin ribbons

crumbled feta
Instructions
Preheat the oven to 400 degrees and line one or two baking sheets with parchment paper.

Roll out the two sheets of pastry onto a lightly floured surface.

Use a rolling pin to lightly flatten the pastry and make it smooth.

Using a sharp, flat knife, cut each pastry sheet into 4 equal squares.

Cut strips from all four sides of each square.

Make an egg wash of 1 egg and a splash of water.

Brush the egg wash on the large pastry square.

Add the border strips back to the edge of the square, wrapping the large piece around the edge.

Press a fork into the border to give it some texture. (optional)

Brush the egg wash on the border.

Poke the center area with a fork to prevent pastry from rising too much.

Transfer each square to a parchment lined baking sheet.

At this point, I like to pop them in the refrigerator for 10-15 minutes. Cool pastry will rise better.

Bake for 15 to 20 minutes or until golden brown.
Pea Puree
Add all ingredients to a food processor or blender. Blend until smooth.

Spread the pea puree in the center of each tart.

Add all your spring toppings.

Serve immediately.