Tender on the inside, crispy on the outside, these pork chops are bursting with flavor!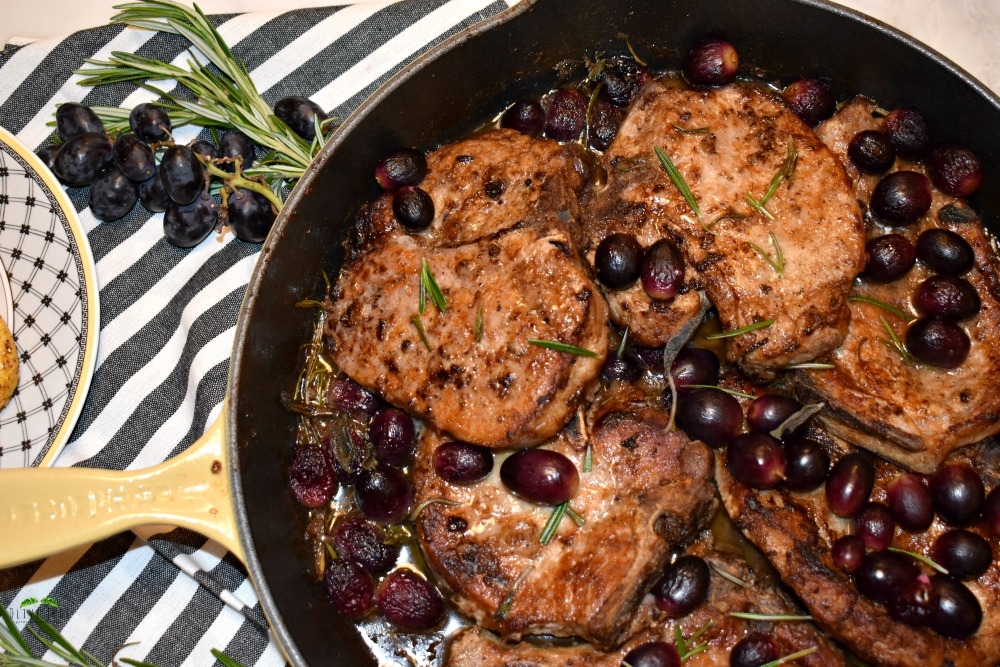 You know how much I love the ease of cooking with chicken thighs, like my Herb and White Wine Chicken Thighs.  But this week, instead of grabbing this reliable meat at the store, I tossed some thick cut bone-in pork chops in the cart.
This is not a norm for me. I've had one too many dry, overcooked, leathery, can't chew and don't want to swallow bites of pork in my life. If I can't get a juicy cut of pork, I'm passing it up.
When we do eat pork in my house, it's usually prepared in my husbands smoker or buried in some sauerkraut on New Year's Day. I'm happy with pulled pork because I'm guaranteed a tender bite.
Pork chops, on the other hand, can be easily overdone so I am a little choosy with them.
Typically, my Better Half grills them and smothers them in Johnny Harris Barbecue Sauce. The first time he introduced this Savannah, Georgia sauce to me, I was hooked too and for years now this is about the only way we enjoy pork chops.
But this time of year, we aren't really using the grill much, so my oversized cast iron skillet rescues me all winter long. If you aren't cooking with one of these heavy beasts, run to the store, click on Amazon…do what it takes to put this in your kitchen. The versatility and ease of cooking with cast iron is everything, especially when it comes to cooking a pork chop. You start your cooking on the stovetop and than finish it in the oven, resulting in golden crusted meat that stays juicy on the inside.
If done right, the pork chops can stand alone and your hunger will be satisfied. But that's much too simple for me. So, tonight, my pork chops are paired with an easy and savory mix of garlic, shallots, broth and wine and then finished off with fresh herbs and fruit.
Black grapes add a perfect balance of sweetness and brightness to the savory herbs in this dish and both compliment the rich pork flavor.
A little time in the oven for the juices to mingle, the grapes to roast until they are about to burst and the pork to finish cooking and you'll have a weeknight dinner that was so simple to make, yet elegant and impressive enough to serve at your next dinner party.
I like to sauté polenta rounds and use them to sop up the sauce that coats my plate, but any starch or side dish will do.
I know Bill will always be loyal to his southern-style barbecue smothered grilled pork chops, but he's pretty thrilled with this recipe too. He even took the leftovers to work. Lucky guy.
For more weeknight skillet dinner ideas, check these out!
Herb and White Wine Chicken Thighs
Weeknight Skillet Chicken Thighs with Roasted Red Pepper Sauce
Weeknight Skillet Eggplant Gratin with Herbed Creme Fraiche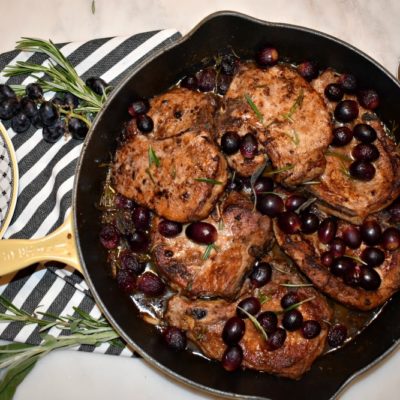 Weeknight Skillet Herb Pork Chops with Roasted Grapes