This shop has been compensated by Collective Bias, Inc. and its advertiser.  All opinions are mine alone. #GrillGatingHero #GrillGating
I love that classic holiday song. You know the one? It plays during the Christmas season over and over again.  "It's the most wonderful time of the year…"
I have to say though, the artist had it all wrong.
Fall is the most wonderful time of the year! It means beautiful foliage, cool crisp air, orange pumpkins, colorful mums…and football fever!
College football is the hap-happiest season of all and in my house, cheering on our favorite team every weekend is a way of life.  
The only thing that could possibly be better than watching the big game is mingling at a great tailgate before the big game. Since Bill and I can't enjoy our favorite team stadium-side, we love to bring the stadium home with a game day grill-gate right in our own backyard. With some tasty bites and the seasonal atmosphere, it's easy to get your pre-game party on!
GameDay Spirit
Add some stadium vibe to your outdoor space with some simple and inexpensive football props like pom-poms. Grab some cardstock or paint chip samples in your team colors and make your own pennants. Get the feel of the field and add some moss to your tablescape. Napkins and paper goods are an easy way to work your team pride into your color scheme.
Fall and football go hand in hand so make the space festive and seasonal with pumpkins and mums.
GameDay Food
The menu at a college football party should be simple and social and shouldn't make you feel like you want to quit the team. The food spread should be as classic as the game itself and Walmart has me covered.
Find these great products and more grill-gating inspiration here.
A backyard grill-gate just wouldn't be possible without CLASSIC Kingsford® Charcoal.
When it comes to firing up our smoker, I'm more of a sideline cheerleader. I, admittedly, don't know much about charcoal but I do know that nothing beats that glorious smell of barbecue in the air.
Bill is an MVP at firing up his smoker and grilling the best meals. He always relies on this Charcoal when he's barbecuing. With this hobby of smoking meats (seriously, who builds his own smoker in his team's colors!?), Bill is convinced that Kingsford® Charcoal is the best and has put it to the test time and time again.
Try kicking off the day with a Dr Pepper® can chicken. Not only is this a total touchdown in presentation, but it's so easy to throw together so that you'll get to spend more time hanging out with your guests instead of fussing over a meal.
After you give that bird a good pep talk, it gets a Dr Pepper injection into its meatiest parts.
Then it is time to put your favorite seasoning all over it, stand it up on another opened can of Dr Pepper and toss it on the hot grates.

Grilling it vertically propped up on a can of Dr Pepper gives you this exceptionally moist, juicy and subtly sweet chicken. It's unbeatable! You'll be a #GrillGatingHero when your guests bite into this delectable Dr Pepper can chicken.
To serve, slice it and keep it warm in a large cast iron skillet set atop a burner.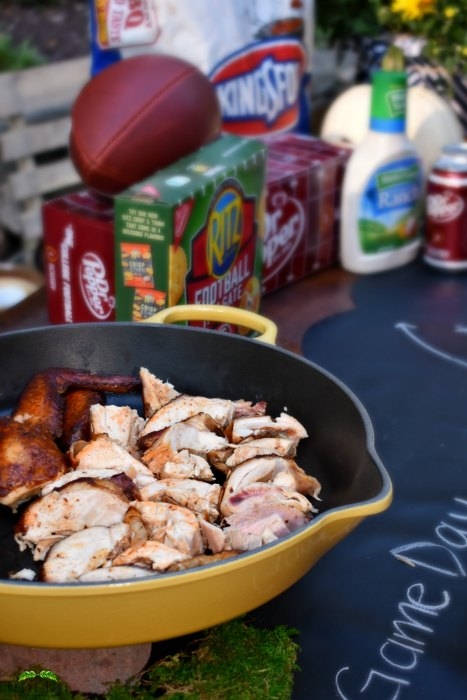 Guests can grab a leg and chow down or build the tastiest sammie to munch on. Nothing beats a handheld at a college gameday gathering…high five!

Additional bite size snacks and popular finger foods allow guests to graze all day with ease. Keep things traditional and fuss-free, it's a football party, after all. Dress up a classic crudités tray and pair it with everyone's favorite, Hidden Valley® Ranch, for dipping.


GameDay Fun
While you are waiting for the kickoff, start a little competitive game of Cornhole. It's our go-to activity for casual backyard parties. Competitors can play the game while holding an ice cold drink.
Dr Pepper is perfect for game day sipping and guests of all ages love the classic taste. Keep your drinks chilled and easy to get to by serving them in a wheelbarrow for a casual and rustic fall feel.
With bellies full, thirsts satisfied, and a little competitive trash talking, we are ready to take a seat in front of the TV and cheer on our alma mater!
GameDay Dessert
During halftime, give your guests something sweet to munch on. Serve your friends some spirited chocolate dipped RITZ® .
These little gameday bites are the perfect combo of sweet and salty. No doubt, you can't eat just one!
Once the game is over and the debate about the better team continues, get ready for a simple clean-up. Stash those leftovers away quickly and easily with some Glad® Press'n Seal, a must-have all the time in my kitchen. It prevents messes and spills against busy kiddie hands rooting through my refrigerator.
Gathering with friends, gameday spirit, and grill-gating are what this season is all about!
Pin!
Want to go for the extra point?! Football legend, Emmitt Smith, has a challenge for you! Be sure to check out his grilling tips and recipes here and share your own grilling photos and experiences. Your grill-gate photo could end up on the Grill-gating website! Just use  #GrillGatingHero on Twitter and Instagram.
What is your go-to classic for a backyard tailgate?
Check out my Sideline Sausage Skewers and my Mini BLTs with Avocado and Spicy Sriracha Mayo for more gameday food ideas.
A Grill-Gate GameDay Gathering featuring Dr Pepper Can Chicken
Gathering with friends, gameday spirit, and grill-gating are what this season is all about! Try this Dr Pepper can chicken and you'll be a grill-gating hero!
Ingredients
1

whole chicken

1

can Dr Pepper for injecting into the chicken

1

can Dr Pepper

¾ filled for the chicken to sit on

All-purpose seasoning

Vertical chicken rack

optional for extra support
Instructions
Remove the giblets from the chicken cavity.

Rinse the chicken under cool water and pat dry.

Place the whole chicken on a platter. Using your first can of Dr Pepper, inject the soda in each breast 4 or 5 times including on the bottom side. Inject again in the legs and then finally in each thigh.

Spray the outside of the skin with a light coating of Vegetable cooking spray.

Sprinkle your favorite All Purpose seasoning all over until the chicken is well coated.

Stand the chicken up on a ¾ filled Dr Pepper can.

Set your chicken on your hot grates once the grill has reached 300 degrees.

Cover and cook for about 2 hours. The chicken is done when it hits 175 degrees in the thigh and 165 degrees in the breast.

Remove from the grill and let rest for at least 10 minutes before slicing.