If you can be a part of a dinner club, go for it. Bill and I have been in a fabulous dinner club for over 4 years now. It is a fantastic and fun way to make new friends, connect with old friends, try new recipes, and enjoy a night of great conversation. Our group consists of 5 couples that come together, each hosting once a year, for a night of good food and tons of laughs. 
It was recently my turn to host and since I've done the sit down al fresco dinners before, this time around I wanted to shake things up. I decided to go retro and get us on our feet for a dinner party inspired by the trends of the 60s.
I poofed my hair, layered on the mascara, channeled my inner Jackie Kennedy, and prepared an evening of revitalized food and classic cocktails from this decade. 
Setting the tone for this swanky affair is all in the details. My friends jumped in on the theme and arrived donning fashion trends and vintage flair from the 60s.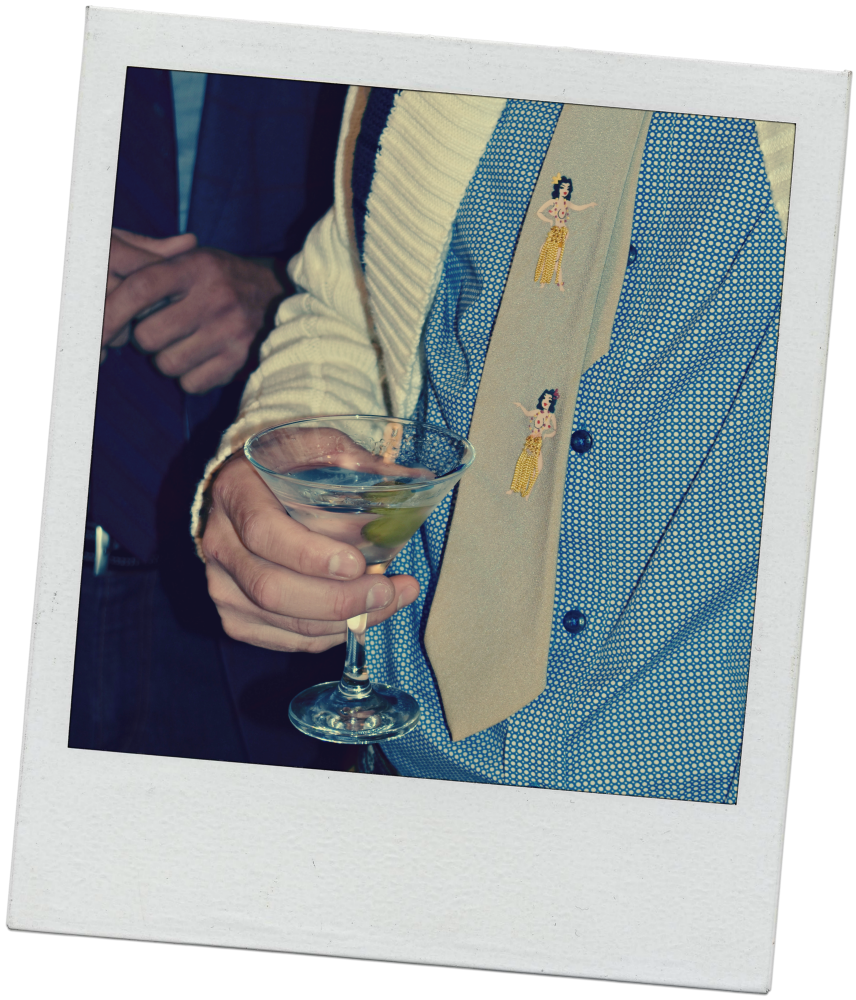 To start, we ditched the orange sherbert and ginger ale and sipped a Tom Collins and Elderflower punch served in a vintage bowl. Once everyone arrived, it was time to toast with some classic libations, like martinis and Manhattans.
And because cigarettes were once cool at a cocktail hour, we got in the decade's spirit with breadsticks stuffed in candy cigarette boxes. Clearly, the ladies played the part and amused ourselves with "cigs" better than the guys.
We dipped our "cigarettes" in a Fried Scallion Dip, an updated version of the wildly popular onion dip made from a soup mix in the 60s. And those cigarette boxes each had a toast to read, both snarky and sweet, to get us all into character.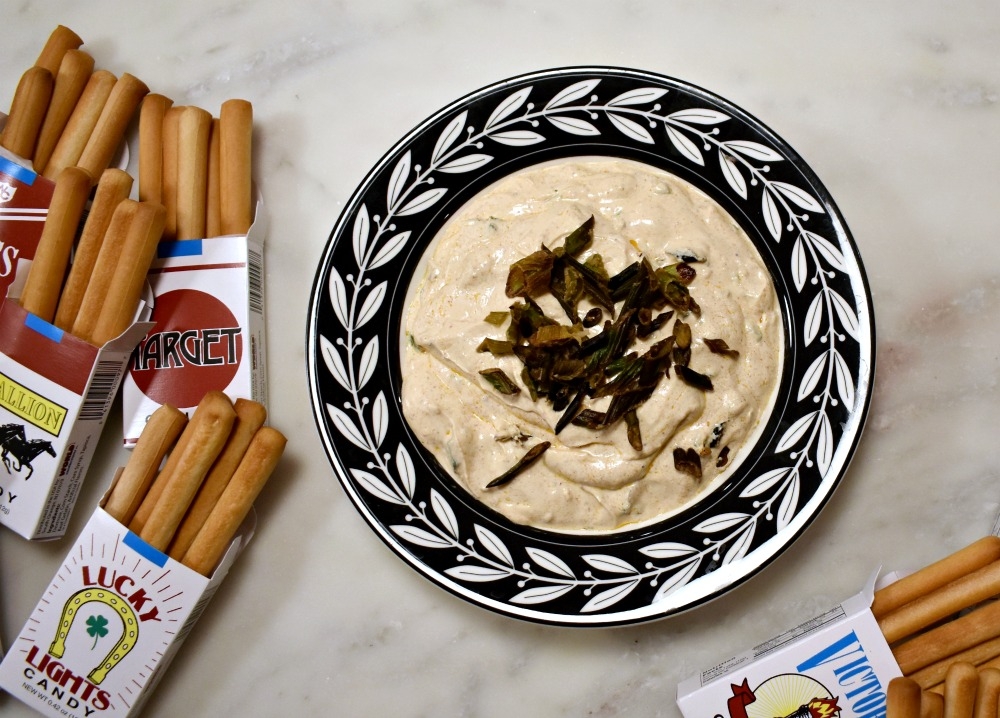 Vintage serving pieces (thanks to my late grandmother) elevated the finger food spread. Silver pieces, tiered serving plates, and crystal relish trays adorned the table holding snacks like my Toasted Cheese and Dill Hors d'oeuvres and Easy Baked Parmesan Artichoke Bites. Betty Draper would be proud.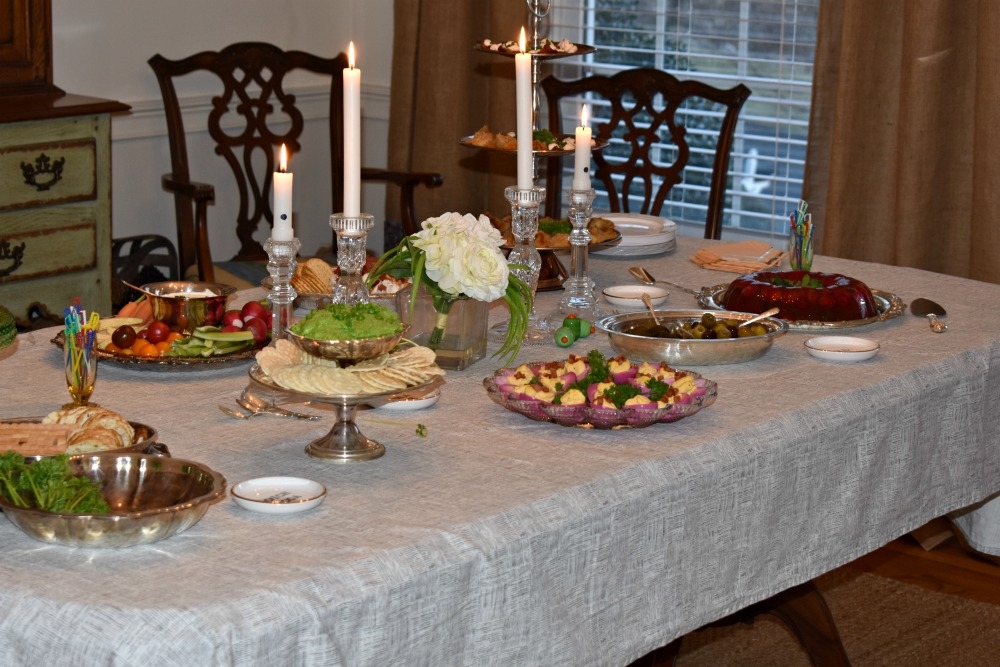 Of course, no retro cocktail hour menu would be complete without some old-school appetizers like a cheese ball, fondue, and deviled eggs. Those beet dyed eggs were even topped with some fried Spam because meat in a can was all the rage.
Canned fish was a staple in the 60s too. Instead of a popular salmon mousse , I served smoked salmon creme fraiche bites on bacon. It seemed everything was "wrapped in a blanket" of bacon back then. 
Buttered peas were a mainstay side dish at the time, but for a fun twist I made my Sweet Pea Purée mixed with ginger and miso and served with rice crackers. 
Jell-O dominated the 60s so I couldn't resist serving this Raspberry Prosecco Tulip on the table, which by the way, was incredibly delicious.
We took a break from the hors d'oeuvres, and unlike the cocktail culture of the 60s, the men and the ladies retired to the living room, where we broke out the decanters and entertained ourselves with vintage magazines and an ashtray full of candy cigarettes. 
To make sure no one ended up with a lampshade on their head, I dished up a buffet style meal too. Popular and nostalgic dinner entrees of the decade, Beef Wellington and Chicken à la King were served. Only for a modern twist, they were deconstructed and spooned onto puff pastry tarts alongside my updated 7 Layer Salad. 
For dessert, what could be more appropriate than Watergate Salad served in vintage Jello-O molds?
Throwing this type of affair where the food was prepped ahead of time and the libations were self-serve, allowed me to get out of the kitchen, circulate the room, and flirt with Don Draper my handsome husband.
Thanks to this dinner club, I get to call these hilarious, food-loving, cocktail-sipping, up-for-anything people…my friends.
Now, let's get back to this decade where I can throw on some jeans, fire up the grill, and sip some chardonnay…being a 60s housewife is exhausting.
Are you in a dinner club?