The perfect compliment to a steak, these grilled Vidalias are succulent and sweet. 
Summertime dinners mean that just about everything can go on the grill giving me a fuss-free meal everytime.  Throwing an entire well-rounded dinner over those hot grates is just as easy as the one pot cooking I do in the winter time.
One of the easiest veggie dishes to go on the grill is the Vidalia Onion. "The Sweetest Onion in the World," when slow cooked, caramelizes, gets juicy and tender and makes a simple side dish for your summer barbecues.
This sweet grilled onion is so nostalgic for me. When I was a little girl, Saturday night sounds were oldies blasting on the radio and Saturday night dinners were dad's grilled filets and this easy side dish. I didn't eat onions as a kid, except for these…they taste like a savory and sweet piece of candy and no one can resist them. 
Simply start by removing any dry skin and stem from the onions, leaving one end in tact.
Cut an X across the top.
Drizzle with some olive oil, salt and pepper and then wrap them up in foil.
Place the onions on a medium-high heat grill for about 45 minutes to an hour.
When the onions are done, open them up and you'll have this rich and delicious treat.
The sweet onions are so full of flavor that you don't need to add anything else to it, though a little butter never hurt anyone.
 Look at those juices!

This simple summer side dish is a 5 star taste.
Try chowing down on a massive Tomahawk Steak  with these onions and you'll be left totally satisfied.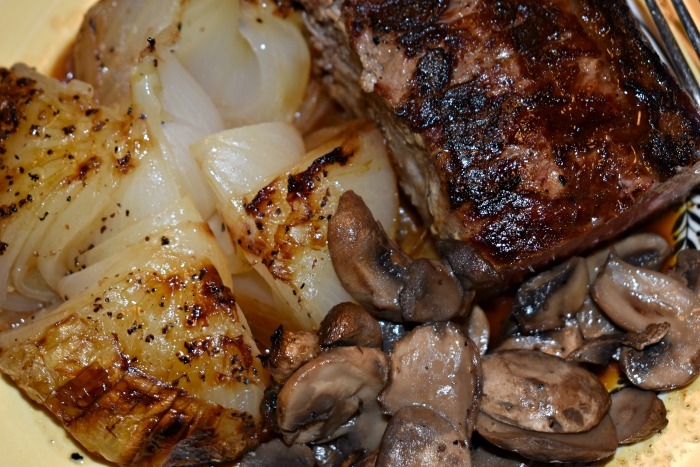 Do you have a favorite summertime veggie?
Dad's Summertime Grilled Vidalias
The perfect compliment to a steak, these grilled Vidalias are succulent and sweet.
Ingredients
1

large Vidalia onion

1

tbsp

olive oil

salt and pepper

butter

optional
Instructions
Remove any dry skin and stem from onions.

Cut an X onto the end.

Drizzle the olive oil over the top.

Sprinkle with salt and pepper.

Wrap in heavy duty foil.

Grill on medium-high heat for 45 minutes to 1 hour.

Carefully open the foil, add about 1/2 tbsp butter (optional).

Enjoy from the foil packet or carefully transfer the onion and all its juices to a plate.