This upgraded version of a classic retro party dip is packed with heat and fresh flavor.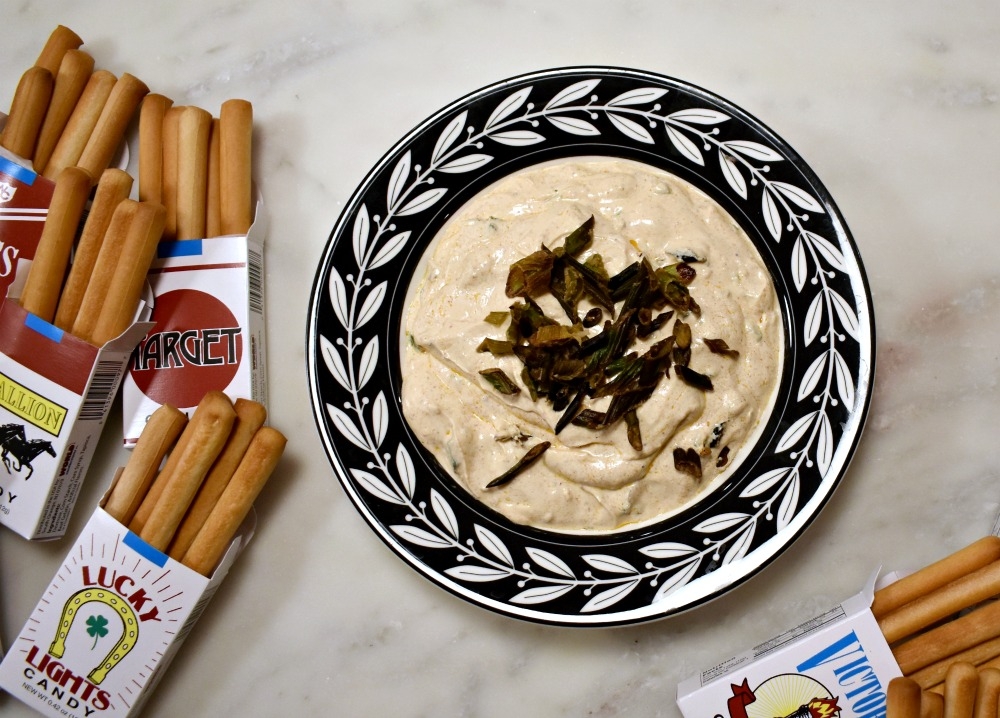 No matter the setting or the theme for a party, there is always one must-have that I include in any food spread.
Dip. There's nothing more satisfying or easier to eat than a party dip. It's essential. You can make it ahead, prepare it sweet or savory, and it usually gets devoured by guests.
Perhaps the most classic dip of all time is the French Onion Dip. Also known in the 60s as California Dip, it probably remains to be the easiest dip for party planners to throw together and serve with some potato chips.
For my Swanky 60s-esque dinner party, I had to celebrate this quintessential retro recipe. But I wanted to do it with a modern twist.  A Fried Scallion Dip that gives the same savory satisfaction as the original, only made with a touch of sour cream and a lot of Greek Yogurt. Plus, unlike the freeze dried flavors of a soup packet, this dip is seasoned with fresh ingredients and spices from the pantry.
Scallions are dipped in flour and then fried until golden brown and crispy. 
I drained the scallions on a paper towel and then tossed my spices and fresh minced jalapeño and garlic in to the hot pan. Cooking them releases so much flavor. 
Finally, all of this amazing spice gets combined with Greek yogurt and just a touch of sour cream. Dips do need to be a little indulgent, after all. 
This is my kind of recipe. It's not a packet, but it's still quick and easy to make, has fresh ingredients, and is suitable for any party spread. It's a welcome and wonderful change from the heavy sour cream and dehydrated soup mix of the 60s.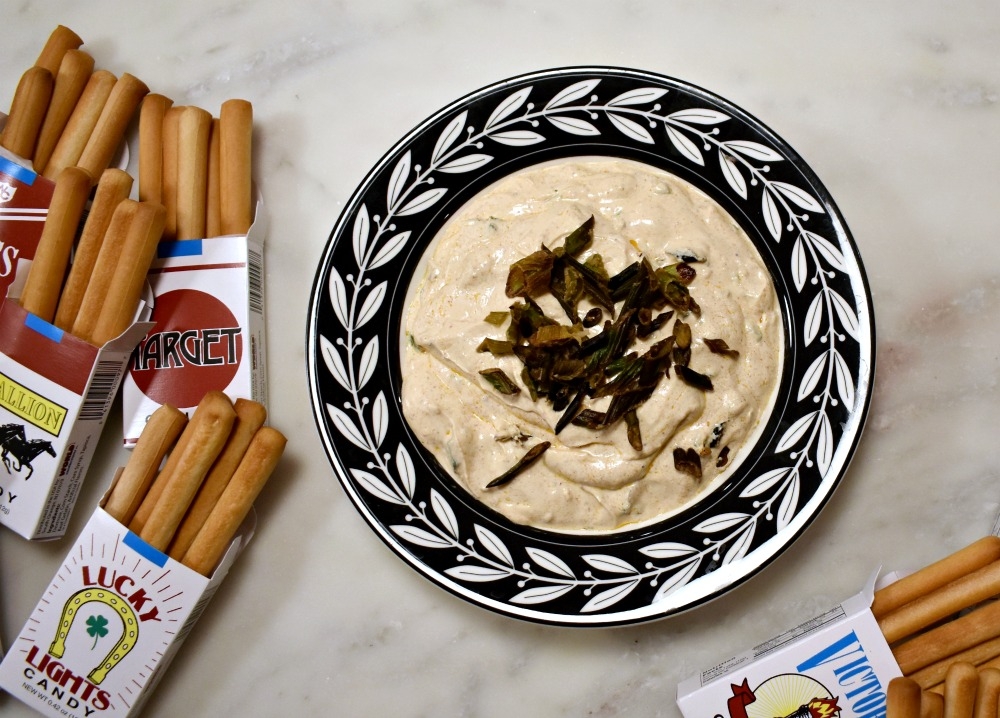 The fun part? I served this dip with breadstick "cigarettes" at my 60s-esque party to set the retro cocktail hour vibe. 
Do you have a favorite party dip?
Try this easy Wasabi Dip or Pickle Dip at your next party. And for a fun way to serve hummus, load it up with some toppings for your next get-together.
Fried Scallion Dip: A Modern Update on a Classic Dip
This upgraded version of a classic retro party dip is packed with heat and fresh flavor.
Ingredients
8 -10

scallions

thinly sliced crosswise

1/4

cup

all-purpose flour

1/4

cup

olive oil

1/2

teaspoon

chili powder

1/4

teaspoon

ground coriander

1/4

teaspoon

ground cumin

1

garlic clove

minced

1

jalapeño

seeded and minced

1 1/2

cups

Greek yogurt

1/2

cup

sour cream

salt and pepper to taste

dash of paprika or cayenne on top for more heat

optional
Instructions
Toss the scallions with the flour in a small bowl.

Heat the olive oil in a skillet over medium-high heat until shimmering then add the scallions and fry. Stir occasionally, until golden brown and crisp, about 3-4 minutes.

Transfer the scallions to a paper towel to drain.

Return the skillet to the heat and add the chili powder, coriander, cumin, garlic and jalapeño.

Stir to combine and cook over medium-high heat for 1 minute. Remove from heat.

In a bowl, add the Greek yogurt and sour cream.

Pour spices and 3/4 of the scallions in and stir to combine.

Season with salt and pepper to taste.

Garnish with reserved scallions.
Recipe Notes
This dip can be made the day before and refrigerated, but make and add the fried scallions before serving so they retain their crispiness.