Grilled Baja-style shrimp tacos couldn't be any quicker and any easier to prepare using mostly kitchen staples.
I am a planner. I have lists in my office and in my kitchen. I love completing a task and crossing it off. I love it so much that sometimes I even add something that I've already done to the list just so I can cross it off. I bet I'm not alone!
But, no matter how much I plan, stuff just happens. Schedules change. Crazy weather hits us. Kiddies get sick. Grocery store visits are missed.
So, if I combine my planning tendencies, with my love of cooking, and my crazy, sometimes total hot mess of a mom life, it is crucial that I have a well-stocked kitchen. In my kitchen, my freezer real-estate is highly treasured! I only put into my freezer what I know will come out prized! There is nothing in the back hiding away gathering some freezer burn and being forgotten about. I value every nook in that space.
For quick weeknight family dinners or unexpected schedules, like the one I am experiencing tonight, my freezer is invaluable for making meals in a jiffy.
One of my freezer must-haves is shrimp. Frozen shrimp is like a dinner safety net for me. With just a few pantry items and hopefully some lingering fresh ingredients, I can always make an enjoyable dinner with frozen shrimp. Its versatility can take you in many different directions.
I usually purchase easy-peel and deveined shrimp, but most likely I stock whatever was on sale at the time. And I am a sucker for jumbo shrimp so I almost always go for this size.
Tonight, after I pulled my reliable bag of jumbo shrimp out of the freezer and let them thaw and then scanned my fridge and pantry for some goodies, I have decided some Southern California cuisine is a menu-must-do.
I'm making Tacos and it's not even Tuesday!
Traditional Baja tacos include fried fish, shredded cabbage, and a creamy white sauce. So, you can imagine how excited I was when I spied some leftover cabbage AND tortillas in my fridge.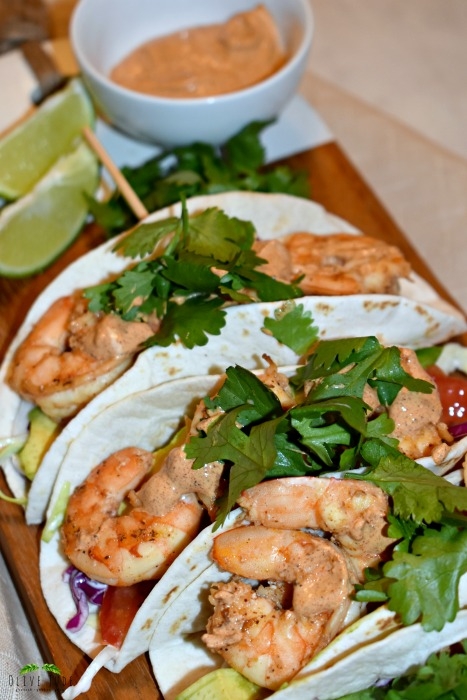 I'm tossing the thawed and peeled shrimp with some cumin, chili powder, garlic powder, salt and pepper and a squeeze of lime and letting them sit for just a few minutes. (I don't want them sitting too long in the lime juice because the lime will start to "cook" the shrimp and ceviche is not on the menu tonight).
While the shrimp hang out, I grab some other kitchen must-haves. I mix some mayonnaise, a little sour cream, apple cider vinegar and honey in a bowl. And because we love the heat, I add a dash of cayenne. I toss this slaw sauce with the cabbage that I have sliced into thin ribbons. The color is spectacular!!!!

For this Baja-style taco, I'm mixing up this killer, fiery, creamy sauce with mayo, sour cream, lime, chili powder, and chilpotle powder. I prefer the tang of Greek yogurt for a healthier option, but I'm using what's on hand here. 
Oh, yeah! I spy a tomato, jalepeno, one lonely avocado and even some cilantro leaves in the kitchen too! Taco necessities. 
My grill pan is hot and my shrimp are ready to be seared!
Plump, grilled sweet shrimp are the easiest and quickest filling for tacos and that is why you will always find that shrimp in my freezer.
I even have time to saute and season up some frozen corn (freezer must-have) and black beans (pantry must-have) for a side dish.
In just 20 minutes, I am serving my family a flavor-packed dinner!
The creamy sauce gives the perfect kick!
The warm tortillas hug and hold these fresh (and frozen) ingredients perfectly! And a few sparse leftover cilantro leaves take the whole taco to the next level! 
Total spontaneous dinner winner!!
What is one of your freezer must-haves?
Baja-style Spicy Shrimp Tacos
Grilled Baja-style shrimp tacos couldn't be any quicker and any easier to prepare using mostly kitchen staples.
Ingredients
Slaw
1/4

cup

mayonnaise

1

tbsp

sour cream

1

tbsp

apple cider vinegar

2

tsp

honey

dash of cayenne

1/2

red cabbage

thinly sliced

1/2

cabbage

thinly sliced
Sauce
2

tbsp

sour cream

1

tbsp

mayonaise

1

slice

of lime

squeezed

1

tsp

chilpotle chili powder

1

tsp

chili powder
Shrimp
2

lbs

peeled

thawed shrimp (I used jumbo)

1

tsp

chili powder

1

tsp

cumin

1/2

tsp

garlic powder

pinch

of salt

pinch

of pepper

squeeze of lime

olive oil for grill pan
Toppings
sliced tomato

thinly sliced jalapeño

sliced avocado

cilantro leaves for garnish

tortillas

warmed in the oven or microwave
Instructions
Slaw
Combine first 5 ingredients and stir to combine. Toss in the cabbage and toss to coat. Set aside.
Sauce
Combine all ingredients in a bowl. Stir to combine and set aside.
Shrimp
Combine all ingredients in the bowl and toss. Let sit for 10 mins. Sear on a hot grill pan on both sides until shrimp is opaque.

Warm tortillas.

Top tortillas with the slaw and the fresh ingredients.

Top with the shrimp and drizzle the spicy cream sauce on top.

Garnish with cilantro.
Recipe Notes
I buy the 2 lb. bag of shrimp and cook the entire bag, but expect leftovers.
Adjust the seasoning for both sauces to your liking.
Try Greek yogurt as a healthy alternative.
Go traditional, and do this recipe with fried fish.