An extra dose of sweetness added to a traditional Gin & Tonic makes this a festive warm weather cocktail. 
When your kindergartener gets home from school and squeals in delight at the sight of fresh blueberries and you stop her from eating them because you need them for your cocktail.
Not a shining mom moment.
But it's a Friday, the kiddies had a half day of school, this was the busiest week ever and mama wants to start the weekend right.
So, The Bean will just have to nibble on another snack. Just keeping it real.
Gin & Tonics are the tastiest warm weather cocktail. But since I like to throw a curveball at an adult beverage, I thought it would be fun to add some homemade blueberry simple syrup to the traditional concoction.
I combine water, sugar and fresh blueberries in a pan and heat at a medium-high temperature until the berries are soft.
After letting it cool, I strain the mix, making sure to reserve the soft berries for later.  I owe them to The Bean.
To make this colorful cocktail, I fill a glass with ice, add 1 ounce of the blueberry simple syrup and 3 ounces of gin. Tanqueray is our gin of choice.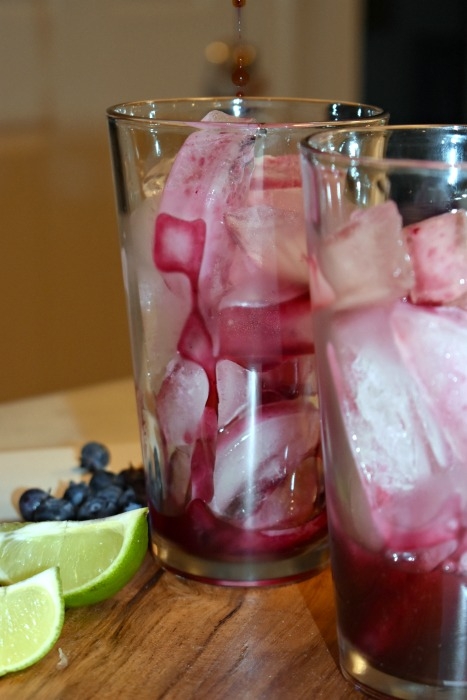 Top this with some bubbly tonic, a squeeze of lime, and a garnish of blueberries.
The blueberry simple syrup adds a depth of fruity sweetness to the traditional Gin & Tonic, plus it's festive and pretty to look at, perfect for a Memorial Day picnic!
Oh, and if you are wondering…The Bean got to eat all the leftover berries and both my girls are devouring the leftover jam I reserved. Win, win.
Have you ever added anything to a classic Gin & Tonic?
Blueberry Gin & Tonic
An extra dose of sweetness added to a traditional Gin & Tonic makes this a festive warm weather cocktail.
Ingredients
Blueberry Simple Syrup
1/2

cup

sugar

1/2

cup

water

1

cup

fresh blueberries
Cocktail
1

ounce

Blueberry simple syrup

3

ounces

of gin

Tonic to top it off

Lime wedge

squeezed into drink

Blueberries for garnish
Instructions
Combine sugar, water, and blueberries in a small saucepan over medium heat.

Bring mixture to a simmer, stirring occasionally.

Cook until sugar has dissolved and the blueberries are soft and beginning to break down.

Remove saucepan from heat and let cool.

Strain syrup into a mason jar or bowl to remove the chunks of blueberries.

Fill a tall glass with ice.

Add the blueberry simple syrup.

Add the gin.

Top with tonic.

Gently stir to combine.

Squeeze a lime wedge in.

Garnish with blueberries.
Recipe Notes
This makes about a cup of syrup.
Reserve the soft cooked berries for jam.