This content uses Affiliate links. Please read my disclosure policy for more info.
We have been tackling some big home projects over the past 2 months and my dining room has become the room where everything gets temporarily stored or dumped . It drives me a bit crazy!
I even had this situation at one point!
A toilet and an old sink next to my great-grandparents lovely dining table. Gave me the sweats.
The projects are wrapping up and so just the other day, as I started to unravel the mess in the dining room and put this pretty space back together, I rediscovered these beauties…from my Christmas centerpiece.
I knew that these gorgeous, now dried, Magnolia leaves deserved a permanent place in my home and suddenly my inner Joanna began to emerge.
If you are a Fixer Upper fan like me, then perhaps you have been longing for one of Joanna's trademark Magnolia wreaths. I have!
I have browsed in the past and have fallen in love with some lovely Magnolia wreaths but, of course, I fell in love with the ones out of my price range…isn't that the way it always goes?
This content uses Affiliate links. Please read my disclosure policy for more info.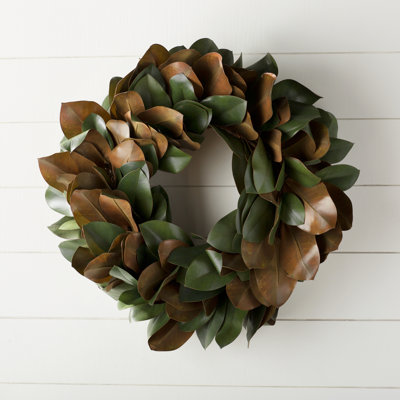 $179.99    Source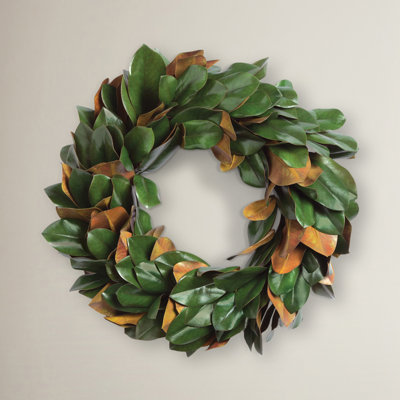 $334.99  Source
$110  Source
Fresh or dry. Faux or real. I simply cannot justify that amount of spending on a wreath.
With this pile of dried leaves staring back at me and knowing that I spent just $15 for this bundle before Christmas, I wasn't going to let these beauties go to waste.  In just 30 minutes, I made my own Magnolia wreath that even Chip would be proud of!
Here's how I did it…
I gently stripped the leaves from their branches.
I organized the leaves by size and then I separated the flattest leaves from the ones that had curled.
I had a grape-vine wreath that I was going to use as a base but decided I wanted something simpler. My leaves were also so delicate and brittle that I didn't want to use wire to attach them to this type of base. With the nearest craft store 20 minutes away (and it was a snow day at home), I had to come up with some solution. I decided to make my own wreath base with some sturdy cardboard.
I simply traced a platter and a basket and used my sharpest scissors to cut the new wreath shape out.
I started to place the flattest, largest leaves in one direction, overlapping the ends, to get a feel for how I was going to design my wreath.
I used my hot glue gun to attach these leaves one by one.
Once the cardboard was covered and the first layer of leaves were secure, I grabbed some rolled up leaves and began to tuck them in around the flat leaves, securing them with a little hot glue.
It helped to stop every so often, hold up the wreath, and see where there were holes or areas deserving of a leaf. 
I used my remaining flat leaves to make another row on the inside of the wreath, giving it more body.
And again, I used the curled leaves and tucked them in wherever necessary to fill in the wreath.
Since the leaves are so delicate, I couldn't wrap a ribbon around it for hanging. Instead, I used one of these binder clips attached right to the cardboard and now it can easily hang on a nail.

In just under a half hour and for just $15, this lovely Fixer Upper inspired wreath came together so easily!
Want to add a bow? Go right ahead! While you have your hot glue gun fired up, try making this simple no sew bow for your wreath!

$15
My biggest dilemma…where should I hang this? I'm still working on that. Decisions, decisions. 
Not ready to tackle this DIY but still longing for a Magnolia wreath? I've rounded up some more affordable options that I think even JoJo would approve of.
This content uses Affiliate links. Please read my disclosure policy for more info.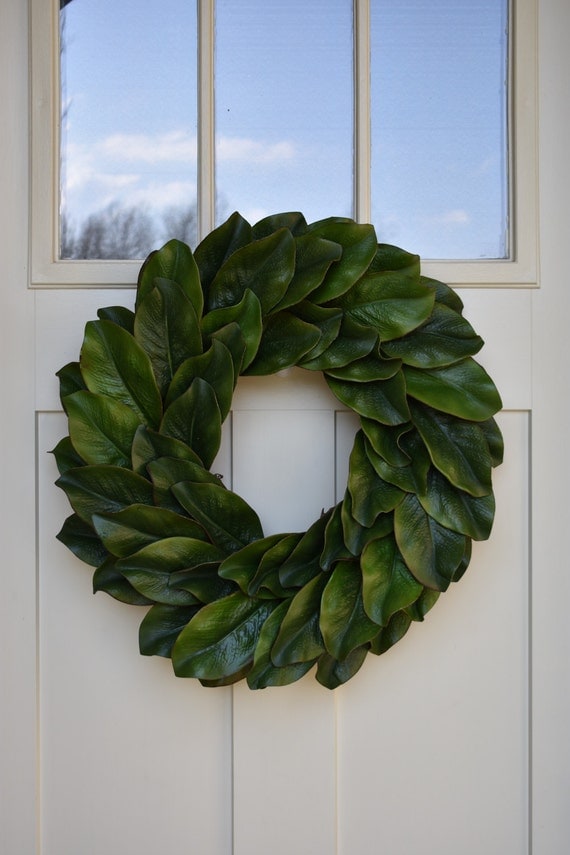 $50  Source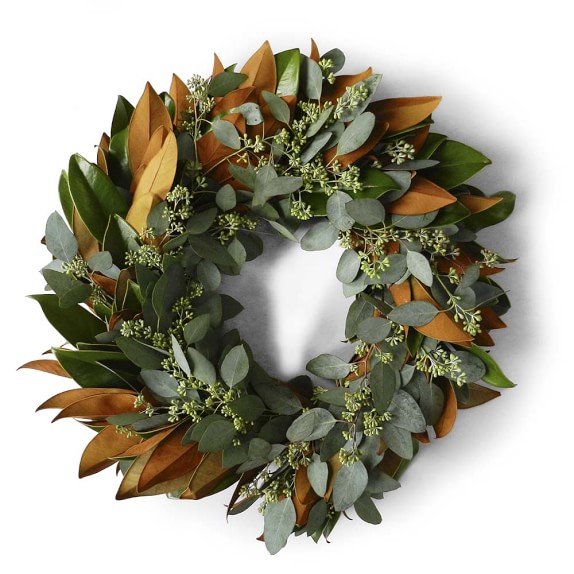 $69.95  Source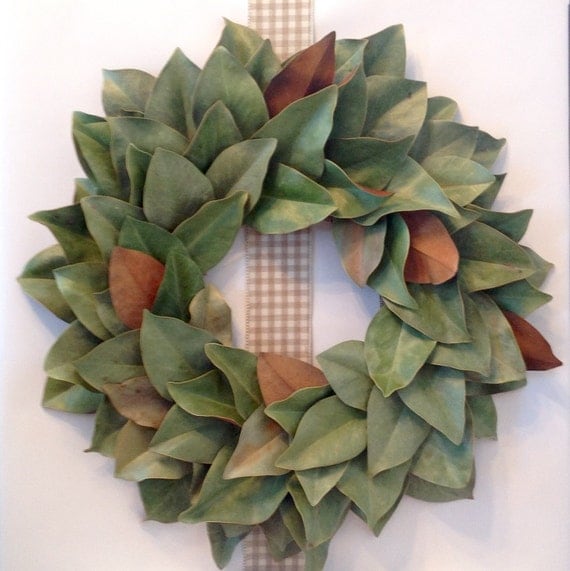 $70  Source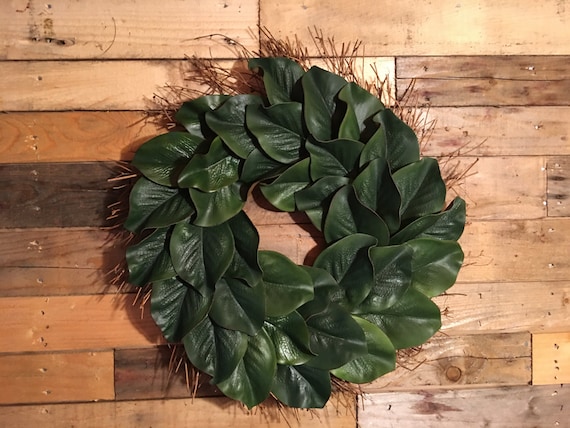 $35  Source
Okay, all you Fixer Upper lovers, do you have any Joanna inspired projects in your home?
Supply List
Magnolia leaves (fresh, dried, or faux)
Hot glue gun
Glue gun sticks
Heavy cardboard
2 different sized platters or bowls for tracing
Pencil for tracing
Sharp scissors
Binder Clip for hanging
Check out my easy and affordable Easter Hoop Wreath too.