After the grind of the week, there's nothing quite like a weekend welcome!
I crave and love a relaxing, family-filled Saturday and Sunday.  But every now and then, a weekend spent with good friends that brings lots of laughs, adult conversation, tasty drinks, and yummy food can't be beat.
And when that time is spent at a festive gathering, it's even better! Our great friends host an annual Oktoberfest party and they transform their backyard into a biergarten where the beer is plenty and the food is as traditional as the lederhosen and dirndl they wear.
They serve bratwurst, sauerkraut, potato salad, hot pretzels and mustard…and an abundance of German beers to choose from that are undeniably the main event at any Oktoberfest celebration.
With any great get-together, decorations are necessary in setting the stage and pulling the whole theme together. From the moment you walk up our friends' driveway, you are welcomed into a space that stays true to the festival's roots. Blue and white tablecloths, flags, and banners give their backyard a Bavarian feel. It's so fun!
I was so grateful that my lovely friend, the hostess that I share a love of good cooking with, let me in on the action to make centerpieces. She knows I love styling a space. See my DIY Easy Centerpieces for my husband's 40th birthday.
First up, the base of the centerpieces! Beer is the main attraction so I wanted to focus the centerpieces around that. Traditional beer growlers are the perfect vase for this celebration.
At a previous dinner party, we gifted these fun friends with a growler of beer that had their name splashed across it. So, we ordered some more of these growlers from Funk Brewing, a brewery in my husband's hometown. These Funk Brewing growlers were so suitable for this FUNKtoberfest party!
Now for the flowers! I am always on the lookout for a good deal, so when I discovered that Michaels Stores was having a HUGE sale on their flowers and greenery, I decided faux was going to be more affordable than the real deal here. Going with faux floral has another added bonus too. These can be stored away and used next year at this annual get-together.
This content uses Affiliate links. Please read my disclosure policy for more info.
I grabbed sunflowers, white mums and mustard sticks. The flowers set the tone for the fall season and the dried mustard sticks were the perfect throw to this Bavarian themed party.
It's a bit of a challenge to create arrangements in these growlers with that small and narrow neck. I had to do a little chopping and cutting and leaf trimming.
I started with the sunflowers since they had the thickest stems. The faux floral ended up being so essential because I could bend that wire and put those flowers in any position I wanted. 
I added the white mums next. I loved the softness they added to the arrangement
Finally, I added the dried mustard sticks for height and to fill in those empty spaces.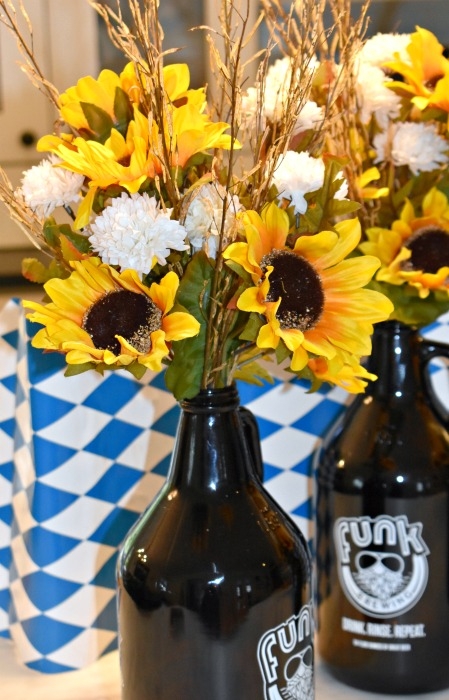 It was all coming together nicely but they didn't scream Oktoberfest just yet!
I dressed these growlers up with a little Bavarian bling and draped pretzels around the necks of the bottles using some blue ribbon and my must-have jute twine.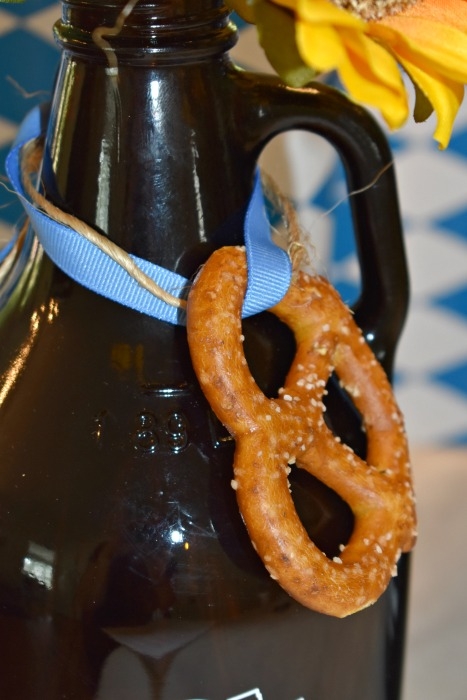 I didn't let any of the leftover mustard sticks go to waste.
These growler centerpieces were the perfect addition to the biergarten tables.
The party, as always, was a huge hit! Prost to my FUNKtabulous friends for another outstanding FUNKtoberfest! Lass uns das nächstes Jahr wiederholen.
Want to get in on the Oktoberfest action? Try my Sheet Pan Beer Brats and Vegetables!